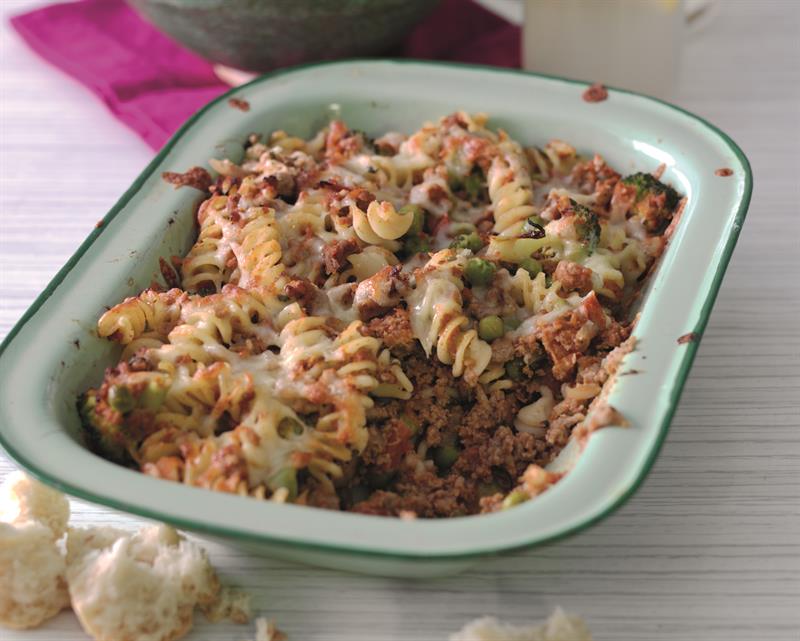 Try this delicious keema pasta bake that uses a prepared keema base combined with cooked pasta shapes, broccoli and grated cheese. Bake and served with warm crusty bread and a green salad. A wonderful alternative lamb mince dish.
Serves: 4 people
Preparation time: 20 minutes
Cooking time: 40 minutes
Ingredients
450g/1lb prepared lamb keema (see Easy Lamb Keema recipe)
175-200g/6-7oz dried pasta shapes, e.g penne, fusilli or eliche
100g/4oz broccoli, cut into small pieces or florets
Salt and freshly milled black pepper
150ml/¼ pint good, hot lamb stock
50g/2oz grated Mozzarella cheese
50g/2oz grated Mozzarella cheese
Method
Preheat the oven to Gas mark 5, 190°C.
Meanwhile, cook the pasta according to the packet instructions, drain and set aside. Cook the broccoli in a separate pan of boiling water for 2-3 minutes, drain and set aside.
Put the keema in a large non-stick pan with the stock and heat for 3-4 minutes until hot. Remove from the heat and add the pasta and broccoli. Season if required.
Combine the mince and pasta with half the cheese.
Garnish with freshly chopped coriander or parsley before serving with warm crusty bread and a crisp green salad.
Spoon the mixture into a 2L (3½pint) ovenproof dish or 4 individual ovenproof dishes. Sprinkle over the remaining cheese and bake for 15-20 minutes.