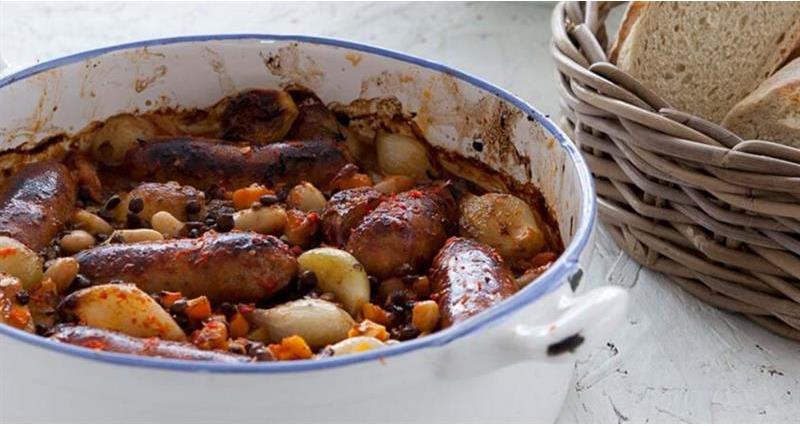 Quick yet delicious sausage and bean casserole recipe, courtesy of our friends over at Love Pork. A perfect midweek option for some cosy and simple home-cooked food.
Preparation and cooking time: 20 minutes
Serves: 4 people
Cooking skill: easy
Ingredients
45ml (3tbsp) Oil
400g (14oz) Pork and Chilli Sausages
200g (7oz) Baby shallots, peeled
1 Large carrot, diced
2 Cloves of garlic, crushed
5ml (1tsp) Tomato purée
1 Small can of Cannellini beans
200g (7oz) Puy lentils, cooked
300ml (11floz) Stock
Sprig of Thyme
1 Red chilli, freeze to grate over the finished dish
Method
Freeze the Red chilli – to grate over the finished dish.
Pre heat the oven 180°C, Gas mark 4.
Heat the oil in an oven proof pan. Once hot add the sausages and whole shallots and gently colour all over.
Remove the sausages and shallots from the pan and add the diced carrot. Cook for a couple of minutes then add the garlic and tomato purée.
Add the beans, cooked lentils and stock along with the sprig of thyme.
Return the sausages and shallots to the pan bring back to the boil and place in the oven for 15-20 minutes. Some of the stock will be absorbed by the beans and lentils to give a thick consistency.
Once out of the oven take the red chilli from the freezer and grate all over to garnish.
Serving Suggestion
Serve with creamy mash or alternatively with and a thick sour cream, cucumber and mint sauce.