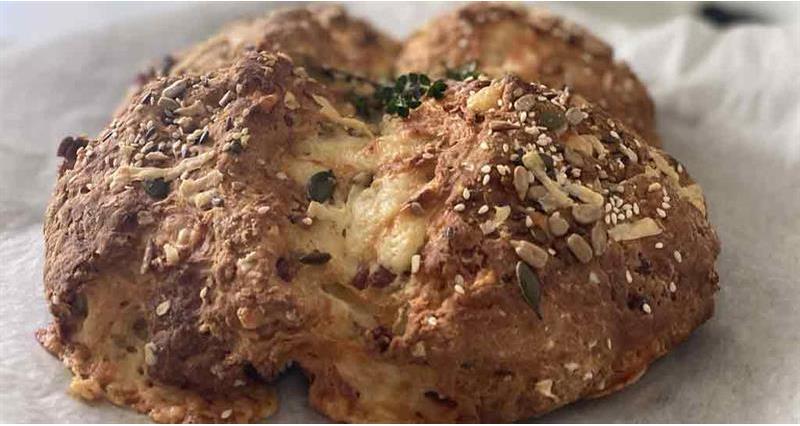 This filling and fluffy soda bread from Miranda Gore Browne is a great way to use more milk and support British dairy farmers.
Ingredients
5 rashers of smoked, streaky bacon (fried and chopped into pieces)
350g self-raising flour
50g oats
170g potatoes, (cooked, mashed or roasted)
1½ teaspoons of bicarbonate of soda
A pinch of salt
170g strong cheese cut into chunks (not grated)
200ml of milk and 1 tbsp of vinegar or lemon juice to make it sour, or buttermilk
60g thick plain yogurt
A few seeds to sprinkle on top
Method
Preheat the oven to 190 degrees.
Fry the bacon in a pan with a little butter. Put to one side to cool before adding to the mixture.
Put the flour, oats, mashed potato, salt and bicarbonate of soda into a large mixing bowl. Stir well to combine.
Add the chunks of cheese, the cooled bacon and the juices from the pan and stir again.
Use a knife to stir in the wet ingredients. Knead together gently to make a soft dough.
Line a flat baking tray with non-stick baking paper.
Turn the dough onto a lightly-floured worktop and shape it into a rough ball.
Use a large knife to cut a deep cross into the dough – you need to cut almost all the way through to the bottom.
Sprinkle some seeds, a little grated cheese, or some oats on top.
Bake in the middle of the preheated oven for about 40 minutes. It should look golden and will sound hollow if you tap the bottom.
Leave to cool on the tray for about 10 minutes, then carefully move to a cooling rack to rest for at least an hour, otherwise it will still be doughy inside.