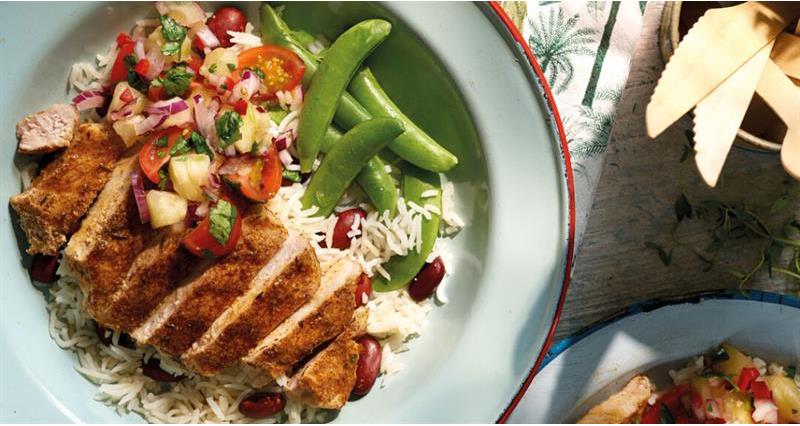 Flavoured with jerk seasoning these sizzling Caribbean pork medallions with a fresh pineapple salsa are a healthy and tasty midweek meal recipe.
Cooking time: 10 minutes
Serves: 4 people
Cooking skill: easy
Ingredients
For the marinated pork:
4 pork loin medallions, fat removed, or 1 whole fillet, trimmed and cut into 8 medallion slices, or 6 fillet medallions
2 tablespoons prepared jerk seasoning (or to taste)
1 tablespoon vegetable oil
For the salsa:
120g pot/pouch fresh pineapple in natural juice, cut into 1cm cubes
12 whole cherry tomatoes, quartered
Juice of 1 lime
1 small bunch fresh coriander, chopped
1 small red chilli, deseeded and chopped (optional)
1 small red onion, peeled and finely chopped
To serve:
200g sugar snap peas
2 x 250g pouches of microwaveable rice
1 x 400g can kidney beans, drained and rinsed
Method
In a shallow bowl, mix the jerk seasoning with the oil. Add the pork, spoon over the marinade and coat both sides. Cover and set aside for 5 minutes or longer for fuller flavour, if time allows.
To make the salsa, mix all the ingredients together in a medium bowl, and season to taste.
Heat a large non-stick frying or griddle pan for a couple of minutes until hot. Add the medallions to the pan and cook for 10 minutes, turning once or until the juices run clear.
Steam or boil the sugar snap peas in a pan of water on the hob for a few minutes. Microwave the rice pouches according to pack instructions and stir in the kidney beans.
Arrange the rice mix and sugar snap peas onto 4 serving plates. Once the medallions are cooked, cut into slices and arrange on top of the rice. Spoon some salsa over each medallion and serve.
Serving Suggestions
If preferred, use a flavoured rice pouch of your choice.
Pork loin steaks could also be used, just remember to trim the fat off beforehand.