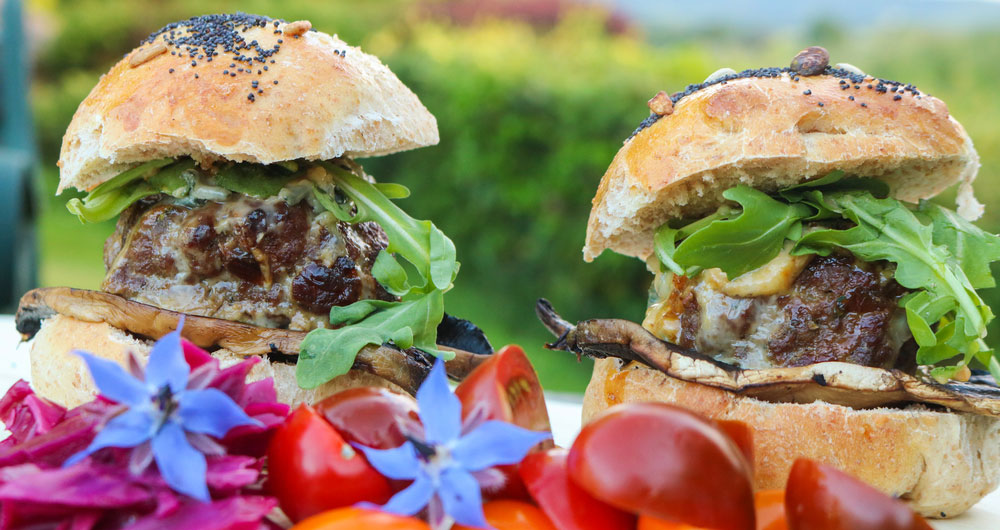 This recipe from Great British Bake Off finalist Miranda Gore Browne makes four large burgers.
Ingredients
500g Red Tractor minced beef
2 tbsp of caramelised red onion chutney
2 tbsp of fresh herbs, finely chopped (I used marjoram, mint, tarragon and rosemary)
Salt and pepper
1 egg
1 tablespoon of plain flour
1 large mushroom, cooked then cut into thick slices and blue cheese, melted on top of the burger at the end of grilling
Method
Put all the ingredients except for the mushroom and blue cheese into a large mixing bowl and use a wooden spoon to stir to combine.
Put your hands into the mixture and shape into fat patties. Cook on the hot grill of the barbecue. Try to only turn as required so they don't break and crumble.
Once you are happy they are cooked, put a slice of blue cheese on top to melt.
Leave to stand for a couple of minutes, then place a cooked mushroom slice onto your homemade bun, followed by the burger.
If the buns are a day or two old, toast a little on the barbecue before filling.
Pile in some tomato salad, pickled red cabbage and tomato ketchup.
Recipe courtesy of Miranda Gore Browne - a food writer, home-baking expert, director of The Kitchen School and passionate foodie. She was also a finalist on the first series of The Great British Bake Off. Miranda has written two books, Biscuit and Bake Me a Cake as Fast as You Can both published by EburyPress.