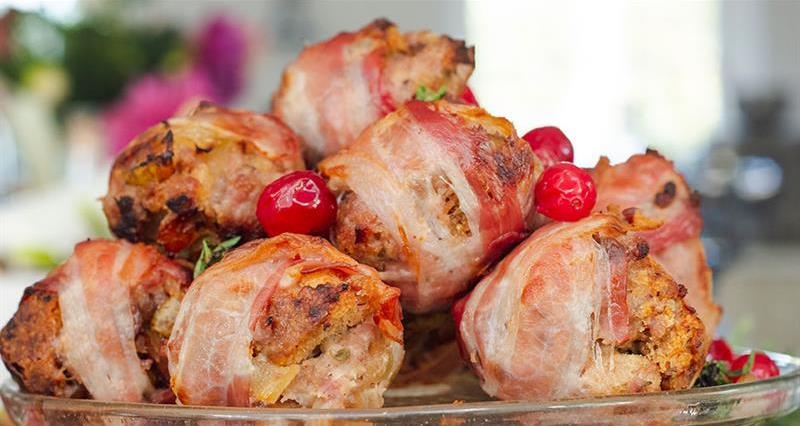 Makes: 12 in a muffin tin
Ingredients
Sourdough or one-day-old bread, roughly chopped and then baked in the oven
1 red onion, chopped and fried until soft
180g roasted chestnuts, roughly chopped
500g sausagemeat
2 hard pears, cored and chopped,
1 tbs dark brown sugar
1 tbs butter
2 tbs of fresh garden herbs – sage, thyme, parsley
1 egg
Thin streaky bacon – 24 thin strips
Method
Roughly chop the sourdough, spread in a single layer on a baking tray and bake in the oven for about 20 minutes at 120 degrees.
Core and chop the pears, put the butter and brown sugar into a frying pan, bubble over a high heat and add the pears, turn with tongs until golden and caramelised. Remove from the heat and leave to cool.
Once the sourdough and the pears have cooled, put all of the ingredients into a mixing bowl and stir well to combine.
Put two rashers of streaky bacon into each muffin hole, to make a cross.
Use your hands or an ice cream scoop to make balls of the stuffing mixture and pop one onto each bacon cross. Bring the bacon rashers around the stuffing to meet at the top.
Bake at the same time as the pigs in blankets – the oven needs to be at least 190 degrees.