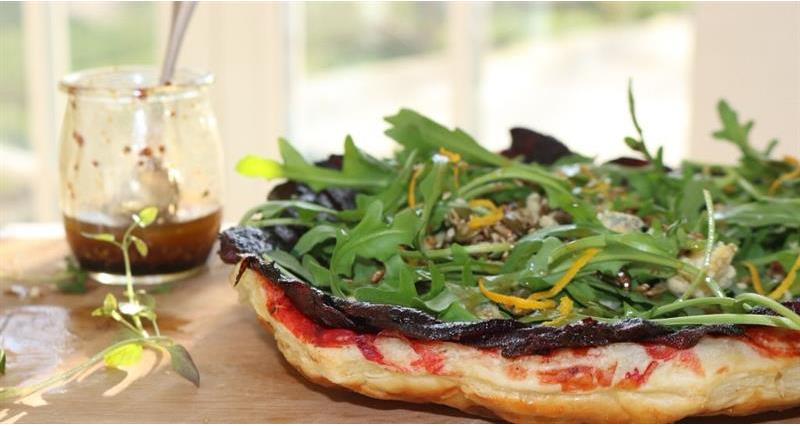 This recipe comes from Countryside's food columnist, Miranda Gore Browne. She says:
"A gorgeously deep pink savoury version of tarte tatin. Dark brown sugar and sticky balsamic caramelise the beets, and the tang of crumbled Stilton melts into the warm tart. This makes a stunning lunch or supper on its own or a delicious supporting act for your Sunday roast."
You will need
1 x 9 or 10-inch loose-bottomed cake tin or a cast-iron traditional frying pan (that's oven safe)
Ingredients
1 small red onion (thinly sliced into rounds)
6 small raw beetroots (approx 700g or 500g after topping, tailing and peeling)
2 tbsp of oil
50g butter
1 tbsp of dark soft brown sugar
1 tbsp of balsamic vinegar
100g Stilton cheese
Rocket
1 x 500g pack of puff pastry
50g of mixed seed – toast in the sticky beetroot pan for a couple of minutes before washing it up
Dressing:
1 tsp of wholegrain mustard
2 tbsp of balsamic vinegar
1 tsp of runny honey
10 tbsp of olive oil or rapeseed oil
1 ice cube
Method
Peel and thinly slice the beetroots (use gloves if you don't want pink hands!).
Put a frying pan onto the heat with a little olive oil and a generous knob of butter.
Add the slices of red onion and beetroot. Toss in the butter and oil for about five. minutes, then add the balsamic and brown sugar and bubble for about one minute
Cut a disc of baking paper and line the base of a nine-inch round loosed bottomed cake tin.
Arrange the onion and beetroot in circles in the base of the tin.
Scrape over the pan juices and season well with sea salt and freshly ground pepper.
Stand on a flat baking tray and put into the preheated oven to bake for about 20 minutes or until the beetroot is tender.
Cut a circle of puff pastry about the same size as the tin.
Take the tin out of the oven and place the circle of pastry on top. Brush with a little beaten egg and return to the oven and bake for 20-25 minutes or until puffed and golden.
While it's in the oven make a quick dressing – put all the dressing ingredients into a jam jar with an ice cube and shake vigorously.
Take out of the oven and put a plate or board over the pastry, flip over so the beetroot is on top.
Crumble over the Stilton.
Pile a few handfuls of rocket on top, a few shavings of orange, the toasted seeds and a drizzle of the dressing.
Best eaten warm.