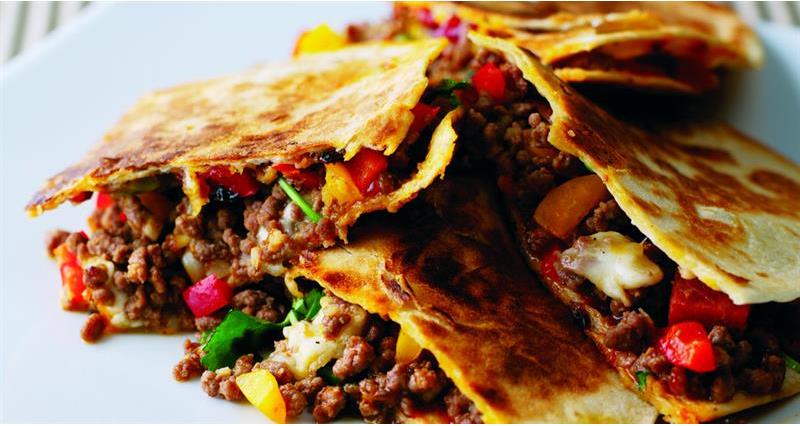 Try our quick and delicious British beef quesadilla with peppers, chorizo, and buffalo mozzarella cheese, courtesy of Simply Beef and Lamb. A delight for your taste buds!
Serves: 4 people
Preparation Time: 15 minutes
Cooking Time: 18 minutes
Ingredients
375g lean beef mince.
2tbsp oil.
2 garlic cloves, peeled and finely chopped.
2 spring onions, finely chopped.
1 red pepper, deseeded and finely chopped.
1 yellow pepper, deseeded and finely chopped.
100g chorizo sausage, roughly cubed.
Large pinch chilli flakes.
Salt and freshly milled black pepper.
2-3tbsp freshly chopped coriander or flat leaf parsley.
1 pack of flour tortillas.
4tbsp tomato chutney.
1 x 150g tub or bag buffalo mozzarella cheese, roughly torn.
Method
Heat half the oil in a large shallow, non-stick frying pan and cook the garlic, onions and peppers for 1-2 minutes.
Add the mince and chorizo and cook for 5-10 minutes until brown. Stir in the chilli flakes and season. Add the coriander or parsley and cool slightly.
Place 4 tortillas on a chopping board and spread evenly with the chutney, beef and cheese. Top each with another tortilla, press down and set aside.
Heat the remaining oil in a clean, non-stick frying pan on a moderate heat and fry the tortillas, one at a time for 2-3 minutes. Invert onto a plate, then slide back into the pan and cook for a further 2-3 minutes until the cheese melts.
Repeat with the remaining tortillas, adding extra oil to the pan if required.
Slice into quarters and serve immediately.