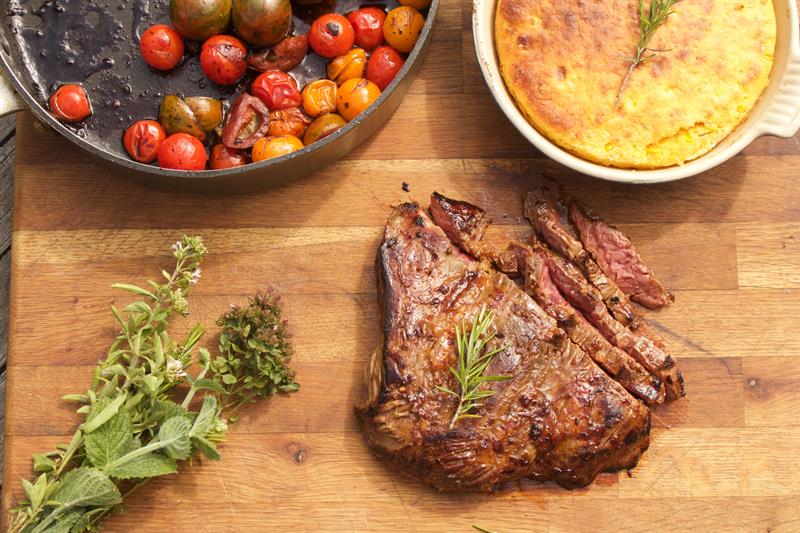 This recipe from Miranda Gore Browne was inspired by cooking on the Chilli Fiesta stage with the brilliant Masterchef winner Kenny Tutt.
Miranda says: "Bavette steak is adored by the French, cheaper than the usual beef cuts – ask your butcher to cut some for you and you won't look back, I'm sure. It's wonderful for frying fast in a super-hot pan or cooked super slowly in a casserole or pie. This is the perfect recipe for a simple autumn supper with friends."
Ingredients
Cornbreads:
100g plain flour
100g polenta or cornmeal
150g roasted butternut squash
½ teaspoon of salt
2 teaspoons of baking powder
20g sugar
240ml milk
1 egg
Sweetcorn kernels from one corn on the cob or 1 small tin of sweetcorn
For the steak:
600g bavette steak
3 tbsp of balsamic vinegar
1 tbsp of butter
250g British vine tomatoes
Marinate for at least six hours or overnight in…
4 tablespoons of honey
Half an orange, squeezed
1 tsp of cumin
1 clove of garlic, crushed
1 tsp of dried chipotle chilli flakes
1 -2 tbsp of oil
Fresh herbs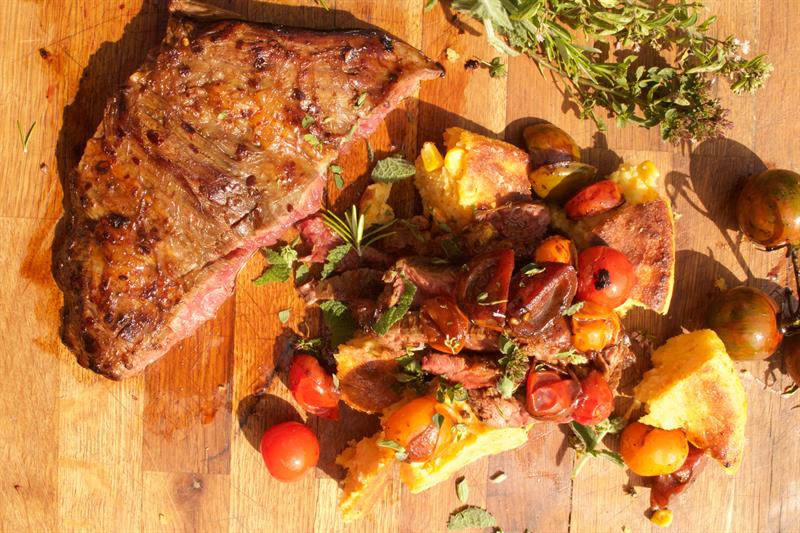 Method
Preheat the oven to 200C.
Grease a round ovenproof dish with butter.
Mix together all the cornbread ingredients and beat well to combine using a wooden spoon.
Pour into the prepared dish, stand on a flat baking tray and bake in the preheated oven for about 20-25 minutes or until golden brown (it may need longer if your dish is deeper).
Put the frying pan onto heat, it needs to be super-hot. Drizzle in the oil and don't add the steak until the pan is smoking hot.
Put the steak in the pan and cook for about four minutes, turn over and cook on the other side. Cook for longer if you like your steak well done.
Take the steak out of the pan and leave it to stand for about 10 minutes.
Pop the tomatoes into the pan to fry and blacken a little in the meat juices.
Take the cornbread out of the oven and tip it onto a large platter.
Carve the meat into slices, cutting across the grain.
Pile the meat onto the cornbread.
Squash a few of the tomatoes into the meat juices, add the balsamic vinegar and the butter into the pan with the juices, stir until glossy. Spoon on top of the meat.
Chop fresh herbs on top.