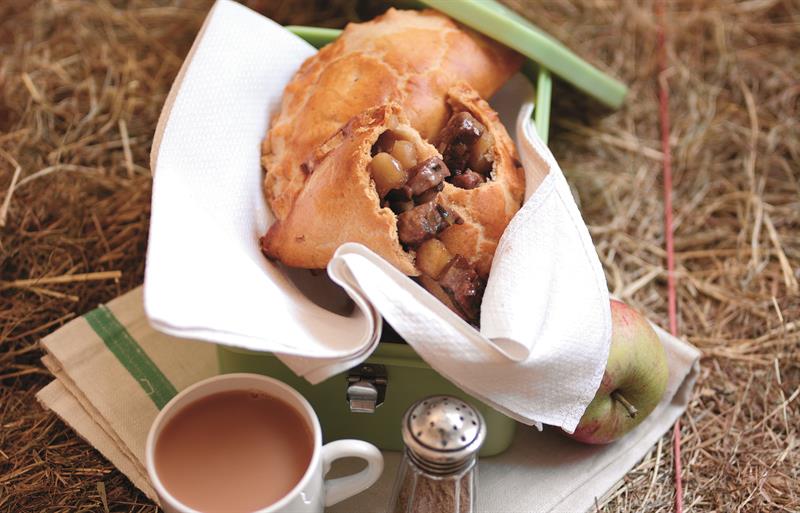 Inspired by the Cornish pasty this lamb, fruity combination makes an excellent snack or lunch.
Serves: 6 people
Preparation time: 10 minutes
Cooking time: 1 hour
Ingredients
450g/1lb lean lamb neck fillet, cubed
1 cooking apple, peeled, cored and finely diced
1 eating apple, peeled, cored and diced
1 red onion, peeled, and finely chopped
1 small potato, peeled, and finely diced
1 stock cube
15ml/1tbsp cider or water
15ml/1tbsp fresh tarragon
Salt and freshly milled black pepper
450g/1lb shortcrust pastry
1 small egg, beaten
30ml/2tbsp milk
Method
Preheat the oven to Gas mark 4-5, 180 -190°C, 350-375°F.
Place the lamb in a bowl, add the cooking apple, eating apple, red onion, potato and stir well together. Crumble over the stock cube and cider or cold water, fresh tarragon and seasoning. Mix well.
Divide the shortcrust pastry into 6 and shape into balls. Roll out each ball on a floured surface and cut out 18cm (7") circles using a small saucer as a guide. Divide the filling between the circles, placing it in the centre. Mix the egg and milk together and brush the edges of each pastry circle, bring the edges of the pastry together and press firmly. Fold edges over and crimp to give a neat finish. Place on a greased baking sheet and brush with egg wash. Bake for 1 hour.
Serve with a fruit chutney and a pint of local cider or a mug of tea!