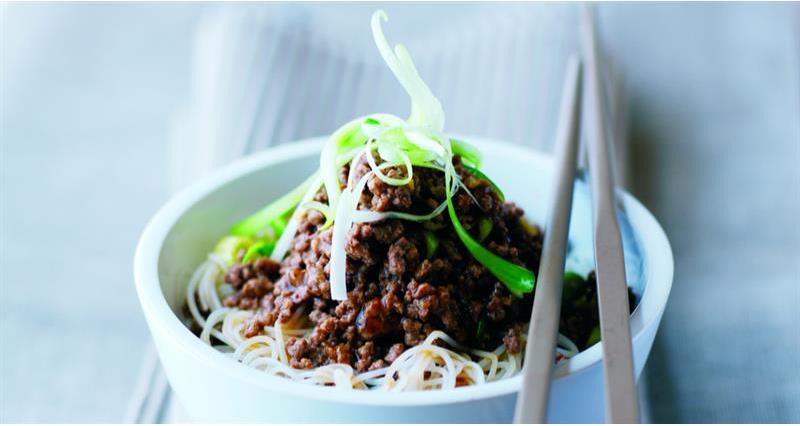 An oriental-inspired quick stir-fry recipe with spring onions, ginger, noodles, oyster and hoisin sauce and Chinese five spice powder.
Serves: 4 people
Preparation Time: 5 minutes
Cooking Time: 20 minutes
Ingredients
450g lean beef mince
1-2tsp soft brown sugar
2tbsp Schezuan or oyster sauce
1tbsp hoisin sauce
2tbsp soy sauce
125ml water
250g rice noodles
2tbsp sesame or vegetable oil
5cm piece fresh root ginger, peeled and finely chopped
4 spring onions, finely chopped
2tsp Chinese five-spice powder
Salt and freshly milled black pepper
1-2tbsp cornflour
1-2tbsp sweet sherry
Shredded spring onions, to garnish
Method
In a small bowl, mix together the sugar, sauces and water. Cover and set aside.
Cook the noodles according to the packet instructions, drain and toss in half the oil.
Heat the remaining oil in a large, non-stick wok or shallow frying pan. Add the ginger and spring onions and stir-fry for 30 seconds. Add the beef and stir-fry for 5-10 minutes until brown. Add the Chinese five-spice powder, sauces and stir-fry for a further 5-10 minutes. Season.
Mix together the cornflour and the sherry, add to the wok or pan and stir gently.
Serve on a bed of rice noodles garnished with the shredded spring onions.