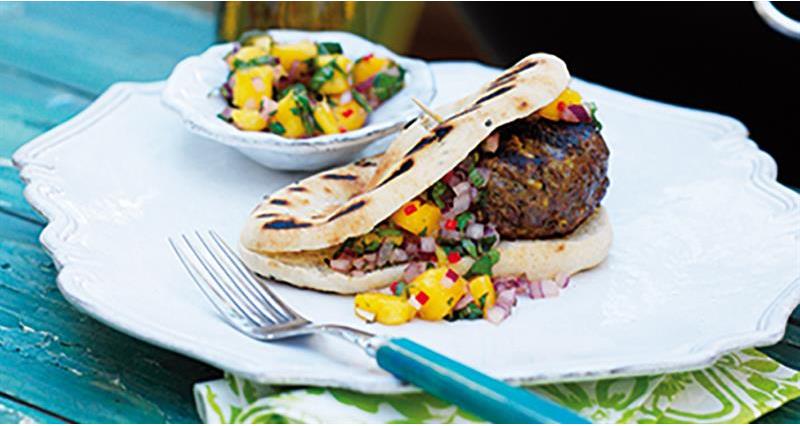 Serves: 4
Prep time: 15 mins
Cook time: 16 mins
Ingredients
450g lean beef mince
1 onion, peeled and grated
2tsp garlic paste or 2 large garlic cloves, peeled and finely chopped
2tsp fresh root ginger, peeled and finely chopped
1tbsp garam masala
1tsp turmeric
Salt and freshly milled black pepper
1-2tbsp freshly chopped coriander
Salt and freshly milled black pepper
For the mango salsa
1 ripe mango, peeled, stoned and finely chopped
1 small red onion, peeled and finely chopped
1 red chilli, deseeded and finely chopped, optional
2tbsp freshly chopped mint
1tbsp freshly chopped coriander
Grated rind and juice of 1 lime
Method
In a large, shallow bowl mix all the burger ingredients together.
Using slightly damp hands shape the mixture into 4 x 9cm (3½inch burgers). Cover and chill for 20 minutes.
To make the salsa, mix all the salsa ingredients together in a large bowl, cover and set aside in a cool place, but not the refrigerator.
Cook the burgers on a prepared barbecue or preheated grill for 6-8 minutes on each side until cooked and any meat juices run clear
Serve the burgers in mini naans with the salsa.