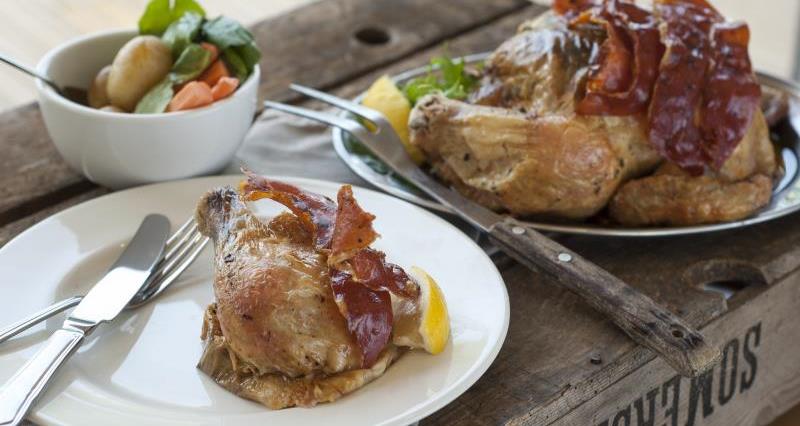 Serves: 4
Ingredients
Whole Red Tractor chicken
6 rashers of streaky bacon
salt and pepper
40g butter
For the stuffing
4 large onions, finely chopped
10 sage leaves, chopped
125g breadcrumbs
1 egg, beaten
50g butter, softened
salt and pepper
bunch of sage, for garnish
Method
Preheat oven to 190°C/375°F/gas mark 5.
Melt the butter and add the onions to the pan. Gently cook for about 10 minutes until the onions are soft. Allow to cool and add the sage, breadcrumbs and season. Add just enough egg to moisten the mixture and leave until ready to use.
Tip: Use a pack of stuffing if time is short.
Stuff the chicken from the neck end, and pack about two-thirds of the stuffing inside. Close the skin over the stuffing and secure it with a cocktail stick or small skewer.
Shape the remaining stuffing into balls and place on a baking sheet. Cook in the oven with the chicken for the final 25 minutes.
Place the chicken in a roasting tin and spread with butter. Season the chicken with the salt and pepper to taste. Arrange the bacon in a criss-cross pattern across the breast. Cover loosely with foil.
Roast in the centre of oven for 20 minutes per 500g plus 10-20 minutes extra, basting twice during cooking.
Remove the foil for the last 15 minutes of cooking. Remove the bacon, baste and increase the heat to 220ºC/425°F/gas mark 7, to give the skin that final golden crispiness. When it is cooked, remove it from the oven and cover it with foil.
Leave to rest for at least 10 minutes before serving. The juices should run clear when the thigh is pierced. If not, cook further.
Garnish with a bunch of sage and serve with a selection of roasted seasonal vegetables.