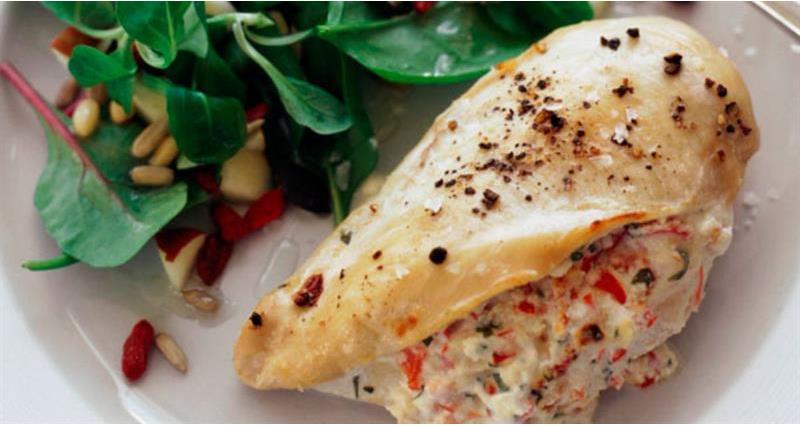 Serves: 4
Ingredients
1 tbsp walnut or virgin olive oil
8 fresh basil leaves, chopped finely
4 Red Tractor chicken breast fillets (about 500g)
200g light soft cheese
60g peppadew mild whole sweet piquanté peppers, drained and chopped finely
160g bag beetroot salad
2 apples, cored and chopped
50g goji, seed and berry mix
Method
Preheat the oven to 200°C, gas mark 6. Place the chicken on a chopping board and make an incision along the sides to create a pocket in each breast. Avoid cutting right through the chicken.
Place the soft cheese, peppers and basil in a bowl and mix thoroughly. Divide the cheese mixture between the chicken breasts, spooning a little into each pocket. Wrap each chicken breast in a piece of kitchen foil to create a parcel, then place on a baking tray and cook for 20–25 minutes, or until the chicken is thoroughly cooked and the juices run clear.
Place the salad leaves, chopped apple and goji seed and berry mix in a bowl. Drizzle the oil over and toss gently. Keep chilled until ready to serve.
If you prefer your chicken with a little colour, turn the oven up to 220°C, gas mark 7, then remove the chicken from the oven, unwrap each parcel and, keeping the chicken in its foil, return to the oven for no more than 5 minutes until golden brown.
Season with cracked black pepper and serve alongside the salad.