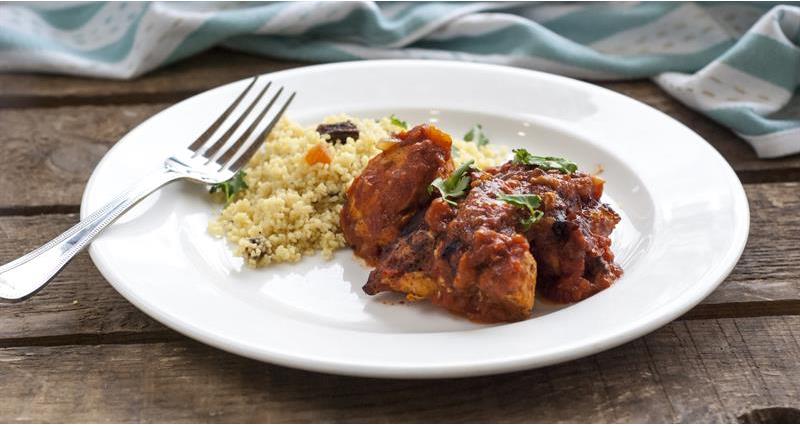 Serves: 4
Ingredients
8 medium Red Tractor chicken thighs
2 medium onions, thickly sliced
150g can chopped tomatoes
½ tsp cumin seed
100g dried apricots
400g chick peas
½ tsp dried chilli flakes
1 tsp dried cinnamon
salt and pepper
Method
If you are using a slow cooker, you can put all ingredients in raw - great to leave cooking away whist you're out.
Slice the onion fairly thick, drain and rinse the chickpeas, and add the rest of the ingredients to the slow cooker with a little salt and pepper. Put on a low heat for 6 hours.
You can also cook this dish in much less time on the hob.
Begin by de-boning the chicken. Heat a large frying pan with some spray oil. Stir fry the onion and chicken for 10 mins until the chicken has browned and onions are soft.
Add the cumin and tomatoes and cook for a further 10 mins.
If cooking this dish on the hob you will also need ½ pint of chicken stock.
Add the stock, apricots, chickpeas, cinnamon, chilli, and seasoning. Bring to the boil and simmer for 20 mins until the sauce has thickened.
Serve with potatoes, couscous or rice.
Chicken cooked slowly with tomatoes, onions apricots and chick peas.