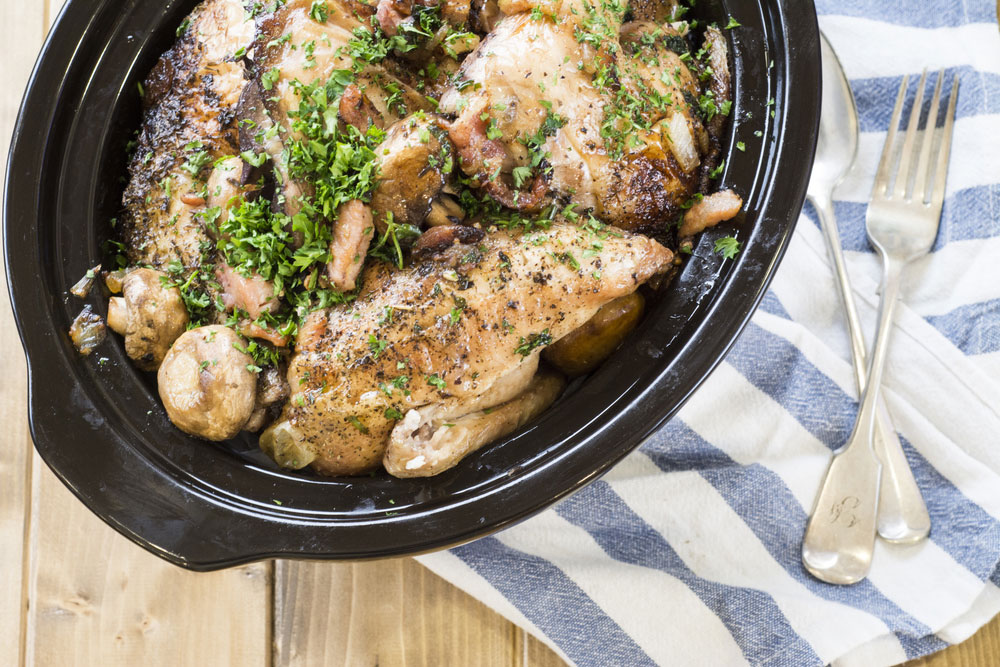 Serves: 4
Ingredients
4 Red Tractor chicken drumsticks
4 Red Tractor chicken wings
4 tbsp olive oil
150g smoked back bacon, diced
2 level tbsp flour
2 cloves garlic, finely diced
½ bottle full-bodied red wine
350ml chicken stock
150g button mushrooms
12 small shallots, peeled, or 1 large onion, sliced
3 sprigs parsley
salt and freshly ground black pepper
Method
Preheat the oven to 140°C/275°F/gas mark 1.
Heat 2 tbsp of oil in a heavy-bottomed ovenproof casserole dish, over a medium heat on the hob. Once hot, add the chicken a few pieces at a time, and fry on all sides until golden brown. Remove the chicken and set aside in a large dish.
Add the shallots and bacon to the casserole dish, and cook for 10 minutes. Once golden and beginning to soften, remove and place in the side dish with the chicken.
Reduce the temperature to low, add another 1–2 tbsp of oil and the flour into the casserole dish, and mix with the juices already in the bottom. Heat for another couple of minutes, or until it is lightly coloured, then stir in the garlic and the wine, followed by the stock. Return to the boil and cook briskly until it has thickened slightly.
Add the mushrooms, chicken, shallots and bacon into the casserole dish. Bring to a gentle simmer, add the herbs, and season to taste.
Once the casserole returns to the boil, cover and place in the oven for 45 minutes, or until the chicken is tender and cooked through.
Serve with mashed potatoes and green vegetables.