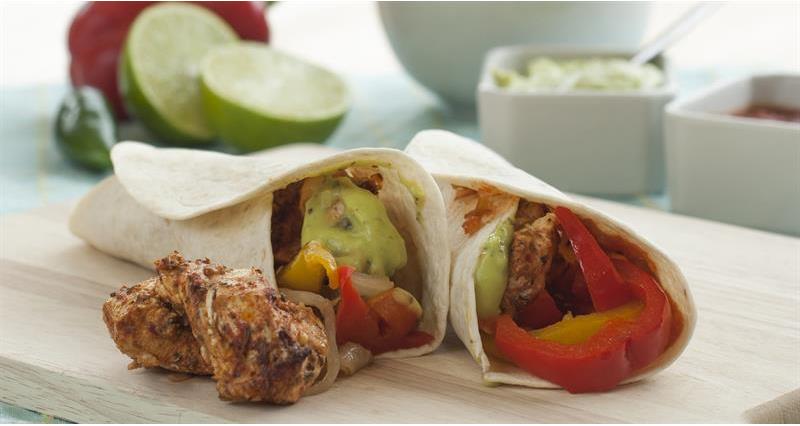 Serves: 4
Ingredients
4 boneless, skinless Red Tractor chicken breasts
1 tsp paprika
1 tsp mild chilli powder
1 tsp cumin seeds, crushed
½ tsp oregano
1 clove garlic, crushed
1 red chilli, finely chopped
1 tbsp grated fresh ginger
black pepper
juice of 2 limes
2 tbsp oil
2 green peppers cut into strips
2 red peppers cut into strips
2 yellow pepper, cut into strips
1 red chilli, finely chopped
1 green chilli, finely chopped
To serve:
1 tub ready made spicy tomato salsa
1 tub ready made guacamole
tortilla wraps
soured cream
Method
Cut the chicken into strips and place in a bowl. Mix together the paprika, mild chilli powder, cumin, oregano, garlic, red chilli, ginger and black pepper. Add to the chicken and toss until evenly covered. Squeeze over the lime juice, mix and refrigerate for 30 minutes.
When ready to serve heat half the oil in a large frying pan and cook the chicken for 5-7 minutes or until cooked thoroughly. Remove from the pan and keep warm. Add the remaining oil and add the peppers and chillies. Stir fry for 3-4 minutes or until beginning to colour and soften.
Heat the tortillas following pack instructions and serve alongside the chicken, vegetables, salsa, soured cream and guacamole.