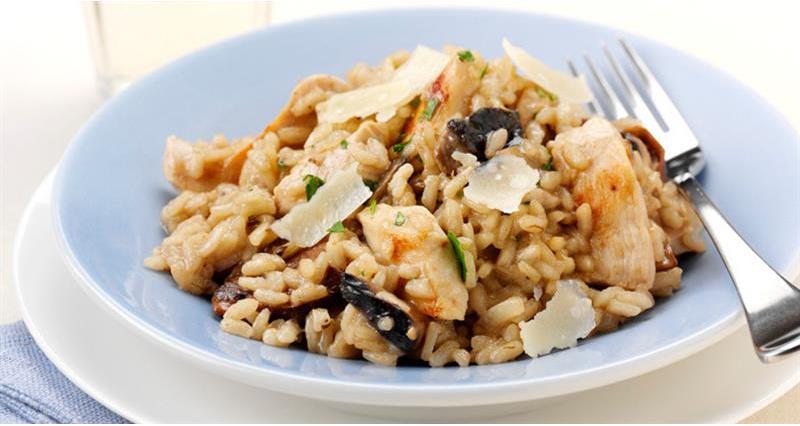 Serves: 4
Ingredients
2 Red Tractor chicken breasts, chopped roughly into small pieces
15g dried porcini mushrooms
1 litre hot chicken stock
25g butter
1 medium onion, very finely chopped
300g Carnaroli or risotto rice
100ml dry white wine
200g fresh mushrooms cleaned and sliced (can be button but the dark flat mushrooms give a deeper flavour)
a little salt and lots of freshly ground black pepper
25g flat leaved parsley, chopped
shavings of parmesan cheese
Method
Put the dried mushrooms in a bowl, pour over enough hot water to cover and leave to soak for 20 minutes. Pop the stock in a pan and keep it at simmering point.
Melt the butter in a large pan on a medium heat and add the onion and cook gently for 3-4 minutes, until softened.
Add the chicken and cook gently until the pieces are turning lightly golden brown for 4-5 minutes. Add the rice and stir for a minute or so to coat it in the chicken-flavoured butter. Pour in half the white wine and let it bubble for a few minutes to allow the alcohol to evaporate.
Meanwhile, drain the porcini and squeeze out any excess liquid. Add the porcini to the rice, along with the fresh mushrooms and stir well. Add the hot stock a ladleful at a time, stirring well between each addition ensuring all the liquid has been absorbed.
Add the remaining white wine and let it bubble for a few minutes so the alcohol evaporates. Season with salt and pepper.
When the rice is tender and the risotto is thick and creamy remove from the heat and leave to rest for about 30 seconds.

To serve: Garnish with the parsley and some shavings of parmesan cheese.