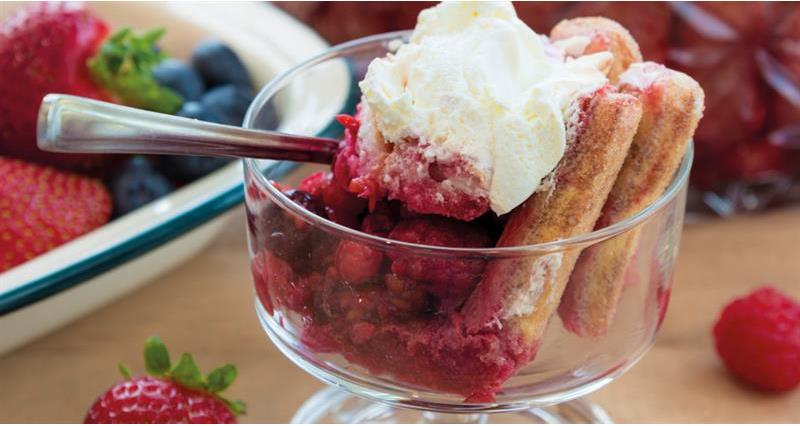 Serves: 6
Preparation time: 30 minutes
Chilling time: 12 hours
Ingredients
675–900g summer fruits (eg strawberries, raspberries, blackcurrants, redcurrants)
2–3 tbsp caster sugar
2 packets of sponge fingers
4–6 tbsp sherry or Madeira or port
1 tub double cream, whipped stiffly, or thick crème fraîche
Method
If you are using red or blackcurrants, damsons or plums, you need to cook these first with the sugar, stirring occasionally, and adding the raspberries or strawberries after these harder fruits have begun to soften (about 5 minutes). When all the fruit is softened, drain (reserving the liquid) and cool.
Use a pretty straight-edged glass trifle bowl with straight sides. Dip each sponge finger into the sherry and use them to layer the bottom of the dish. Now work your way around the edges of the bowl, standing each finger upright like a soldier. Don't dip the fingers in for too long otherwise they go soggy.
Pour in the fruit mixture and make a final layer of fingers on top. Spoon over any juices from the fruit, so that most of the fingers are coloured up. Place some cling film over the top and place a plate over the fingers with a heavy weight on top (a tin of tomatoes will do!). Place in the fridge overnight.
As this version of summer pudding is not turned out as the ones with bread are, you can decorate the top with cream and people get a nice surprise when they see the pudding opened.
---
NFU Countryside has put together a fantastic collection of recipes for our recipe book called 'Countryside Kitchen.' The book, which contains recipes and some of the stories behind the growers of the raw ingredients retails at £15.95 plus P&P. Members can buy the book for £7.95 plus P&P.
Buy your copy here