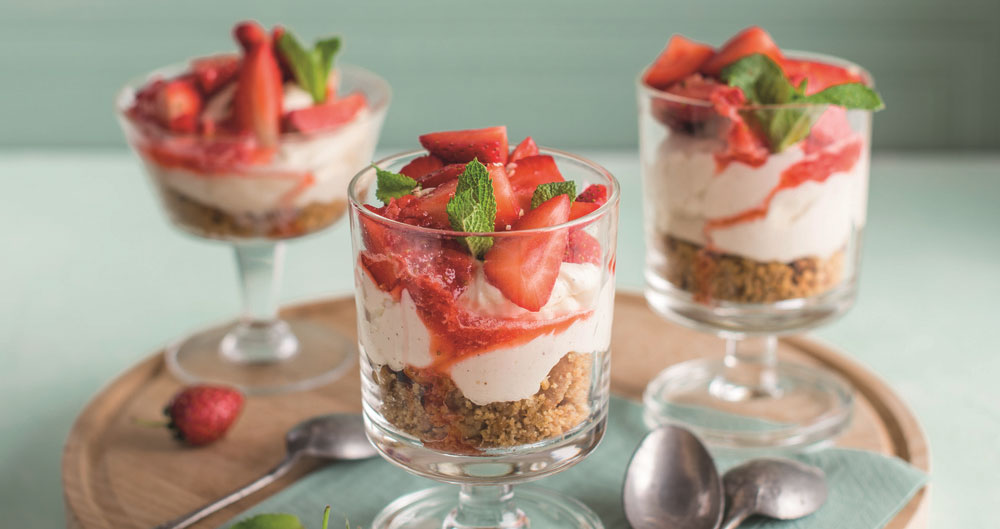 Serves: 6
Prep and cook time: 10 min
Chilling time: 1 hour
Cooking skill: easy
Ingredients
125 g | 4 1/2 oz ginger nut biscuits, crushed
2 tbsp unsalted butter, melted
3 tbsp Silver Spoon caster sugar, divided
300 g | 11 oz vanilla Greek-style yoghurt (Red Tractor)
100 g | 3 1/2 oz extra light cream cheese
1 tsp vanilla extract
225 g | 8 oz British strawberries, hulled and diced
1 tbsp lemon juice
1 handful small mint leaves, to garnish
Method
Stir together crushed biscuits, melted butter, and 1 tbsp sugar in a mixing bowl until biscuit crumbs are moist. Divide between six serving glasses and chill until needed.
Combine Greek yoghurt, cream cheese, and vanilla extract with remaining caster sugar in a mixing bowl, beating until sugar has dissolved, about 2 minutes.
Divide mixture between glasses, spooning on top of biscuit base. Cover and chill for 1 hour.
When ready to serve, purée half the strawberries with lemon juice in a food processor.
Spoon on top of cheesecakes and garnish with remaining strawberries and mint leaves.
Did you know…
We eat close to 170,000 tonnes of strawberries a year, 70% of these are grown in the UK.