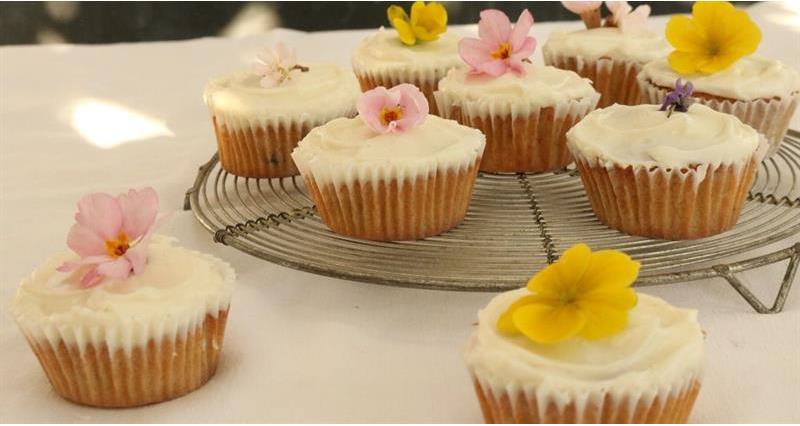 Miranda Gore Browne's recipe for simple little fairy cakes with a hint of spice, which have a touch of times gone by.
Makes 24 small or 12 large cakes
Ingredients
150g unsalted butter
60g honey
100g soft light brown sugar
3 eggs
1 tsp of cinnamon
1 tsp of vanilla bean paste or extract
1 tsp of grated orange
100g self-raising flour
60g spelt flour
1 tsp of baking powder
Pinch of salt
50g sultanas
150g British carrots (coarsely grated)
For the icing:
150g full fat cream cheese
1 tsp of orange juice
1 tsp of vanilla bean paste or extract
500g icing sugar
Method
Melt the butter and honey in a small saucepan. Preheat the oven to 180 degrees.
In a bowl, whisk together the eggs and sugar for about three minutes or until thick and pale in colour.
Gently sift in the flour, salt, baking powder, spices and fold in with a large metal spoon.
Stir in the melted butter and honey and then finally add the grated carrot and sultanas.
Put 24 fairy cake cases into tins (or 12 if using larger muffin sized cases).
Carefully spoon the mixture into the cake cases. Bake in the middle of the preheated oven for about 15 minutes (longer if using muffin sized cases and trays).
Take out of the oven and leave to cool before icing.
Put the icing ingredients into a mixing bowl and cream together by hand or with an electric mixer until smooth and creamy.
Put a spoonful of icing onto each cake and swirl with a flat knife.
Decorate with edible flowers – primroses, violets, apple blossom all look really pretty.