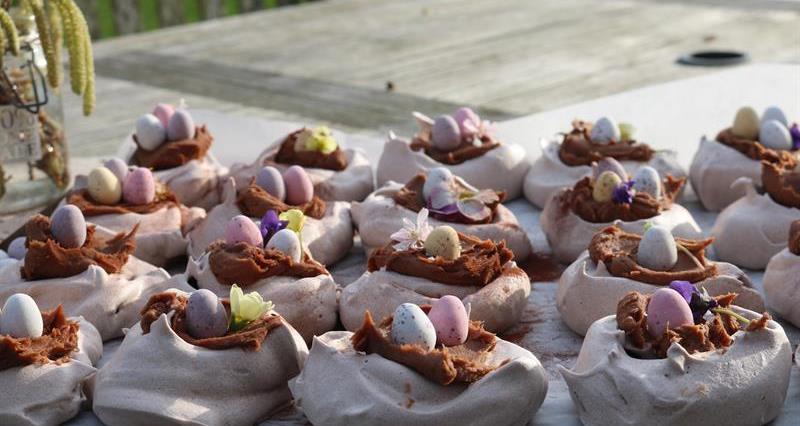 Makes: 20 small nests
Ingredients
Ganache
200g milk chocolate
200ml of double cream
3 tablespoons of Nestle Caramel
1/2 tsp of sea salt flakes
For the meringues
4 egg whites
60g granulated sugar
170g caster sugar
1 tsp of cornflour
1 tsp of vinegar (cider vinegar)
1 1/2 tbsp of cocoa powder
To decorate:
Chocolate mini eggs
Edible spring flowers
Cocoa powder, for dusting
A little extra sea salt to sprinkle on top
Method
Make the ganache first as it will need time to thicken while the meringues bake.
Break the chocolate into pieces and put it with the cream into a heatproof bowl over a pan of simmering water.
Once the chocolate starts to melt, remove from the heat and beat into the cream with a wooden spoon.
Stir in the caramel and sea salt and then put to one side to cool at room temperature.
For the meringues: wipe your bowl with the cut side of a lemon, this will make it super clean and remove any grease so the egg whites whip up beautifully.
Cover a large, flat baking tray with non-stick baking paper
Preheat the oven temperature to 120 degrees.
Break the egg whites into a jug, keep the egg yolks in the fridge to use for another recipe.
Weigh the granulated and caster sugars into two separate bowls, have a large metal spoon ready to spoon into the egg mixture.
Tip the egg whites into the clean mixing bowl and use an electric hand whisk or stand mixer, whisk gently, building up to a high speed until the egg whites are thick and stiff, you should be able to hold the bowl upside down without the mixture falling out.
Add the granulated sugar, a tablespoon at a time with the whisk mixing at a high speed. Then add the caster sugar, whisk until the mixture is thick and glossy.
Put the whisk to one side, use a large metal spoon or thin spatula to gently fold in the cornflour, cocoa and vinegar.
Use two spoons to dollop the meringue mixture onto the baking paper. Then use a teaspoon to smooth a little nest-shaped hole in the middle of each meringue.
Put into the preheated oven and bake at 120 degrees for one hour, then reduce the temperature to 100 degrees, bake for another hour then turn the oven off and leave the meringue nests inside with the door shut. It's best to leave it overnight but if you can't do that, then leave for at another hour.
Remove from the oven and ensure the nests are completely cold before spooning the ganache into the holes and decorating with mini eggs, edible flowers and a dusting of cocoa powder.