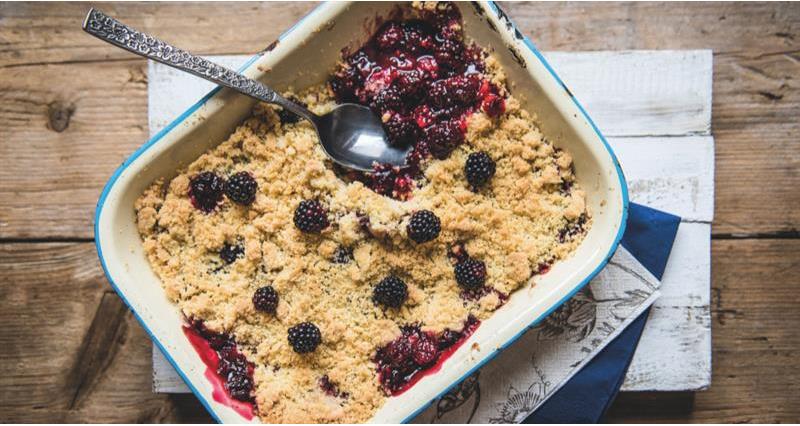 Serves: 8
Prep and cook time: 1 h 30 min
Cooking skill: easy
Ingredients
For the filling:
1 kg | 35 oz British Bramley apples, peeled, cored, and diced
300 g | 11 oz British blackberries
3 tbsp Silver Spoon caster sugar
3 tbsp sloe gin, or water
1 tsp vanilla extract
For the crumble topping:
225 g | 8 oz plain flour
4 tbsp Silver Spoon caster sugar
1 pinch salt
1 tsp ground cinnamon
140 g | 5 oz unsalted butter, cold
and cubed
Method
For the filling: Preheat oven to 180°C (160° fan) | 350°F | gas 4.
Combine everything for filling in a large saucepan. Cover and cook over a medium heat, stirring from time to time, until fruit is soft, 15-20 minutes. Take off heat.
For the topping: Combine flour, sugar, salt, and cinnamon in a food processor. Pulse a few times to mix.
Add butter and pulse until mixture resembles rough breadcrumbs; it should retain some texture.
Spoon fruit filling into a rectangular baking dish, topping with crumble mixture.
Bake until golden-brown and crisp on top, 30-40 minutes. Remove from oven and let stand for at least 10 minutes before serving.