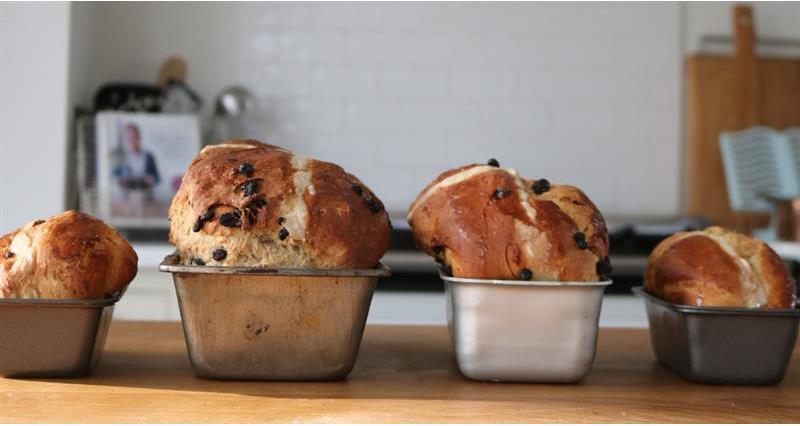 Makes: One large loaf
Baking time: 25-30 minutes
Ingredients
300g strong white bread flour ?
200g plain wholemeal flour
125ml warm water
125ml warm milk
7g dried instant yeast
10g fine sea salt
50g caster sugar
1 medium free-range egg
50g butter, melted
1 tsp of orange zest
1 tsp of lemon zest
40g sultanas
20g currants
small apple grated
tsp of cinnamon
tsp of nutmeg
1 egg, to brush on top
Method
Combine the flours, water, milk, yeast, salt and sugar in the mixer bowl and fit the dough hook. (If making by hand, combine in a large mixing bowl).
Add the beaten egg, zest and melted butter and mix to a sticky dough. If using a mixer, use the dough hook and mix on a low speed for approximately 8 minutes, or until the dough pulls together in a ball and the sides of the bowl are almost clean. Alternatively, tip onto the worktop and knead by hand for about 10 minutes (try not to add much flour – oil your hands with some olive oil to stop the dough sticking).
Put the dough in a buttered bowl (it needs to be quite big) cover with cling film and leave to rise for a couple of hours or until doubled in size.
Once it has doubled in size, tip the dough onto the worktop and flatten with your hands.
Put the dried fruit, grated apple, zests and spices on top of the dough, roll up then knead until combined. Flatten again then roll up to fit into the loaf tin.
Cover the loaf of dough with a clean tea towel and leave to prove for at least an hour at room temperature.
Pre-heat the oven at 180 degrees.
Break an egg into a cup, whisk with a fork and brush on top of the loaf.
Mix strong white bread flour with a little water to make a paste, spoon this into a piping bag or a plastic food bag, snip a tiny hole in the corner and pipe a cross on the top of each loaf.
Once it's doubled in size, place in the pre-heated oven and bake at 180 degrees for 25-30 minutes or until it's golden brown and the dough sounds hollow.
While they are still hot, drizzle a little runny honey on top, then leave to cool on the baking tray.