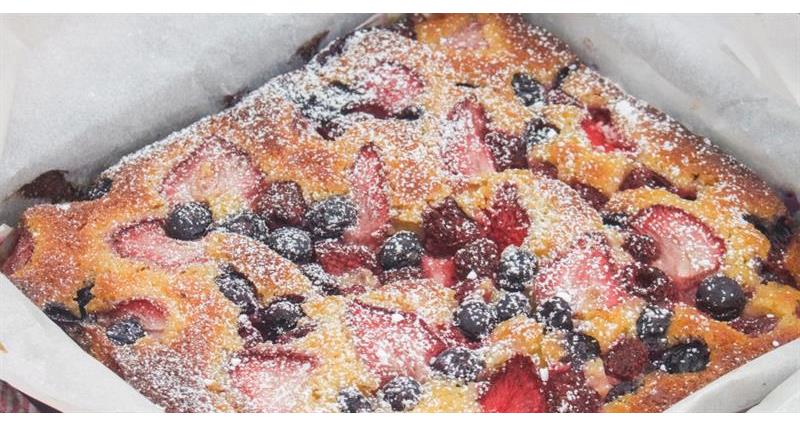 Baking time: 35-40 minutes
Ingredients
150g butter, unsalted and softened
115g golden caster sugar
115g runny honey
1 tsp of orange zest
1 tsp of vanilla bean paste
3 eggs (large)
150ml yogurt
150g self-raising flour
150g ground almonds
1 tsp of baking powder
225g berries, I used strawberries, raspberries and blueberries but use whatever you can get hold of, chop a little to have similar sized pieces of fruit.
1 tbsp of caster sugar

Method
Chop the fruit and put to one side.
Preheat the oven to 180 degrees and line a tin with two layers of non-stick baking paper (this makes it easier to transport for a picnic).
Cream together the softened butter, caster sugar and honey with the orange zest.
Beat the eggs together in a jug, add to the mixture a little at a time.
Fold in the flour, baking powder, vanilla bean paste and finally the yogurt.
Scrape into the lined traybake tin, gently distribute the fruit on top, sprinkle over a tablespoon of caster sugar and the flaked almonds.
Put straight into the preheated oven to bake for about 35-40 minutes.