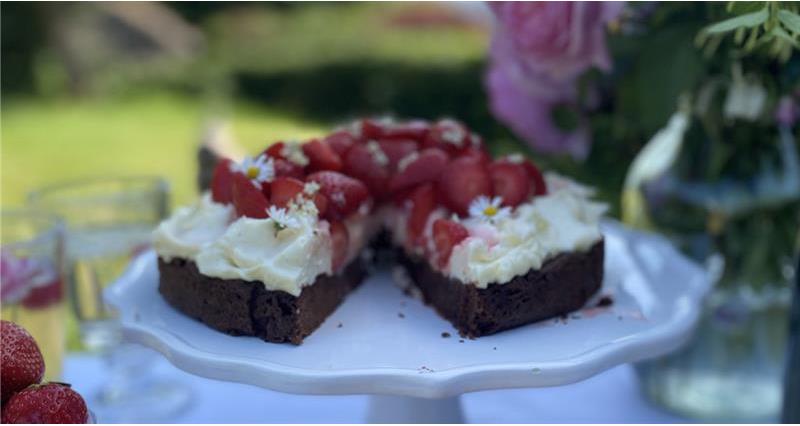 Miranda Gore Browne's take on a cheesecake tart is a quick and easy way to get the same fix of the classic cheesecake, but needs no overnight chilling or long, slow baking. You can add different flavours to the shortbread and turn this into a pudding you can roll out for any occasion.
Ingredients
For the shortbread base:
230g plain flour
40g cocoa powder
25g semolina or if you don't have it then add 25g of cornflour or plain flour
140g caster sugar
1 pinch of salt
200g unsalted butter, softened
For the cream cheese filling:
400g cream cheese (ideally full fat – 2 standard tubs)
70g icing sugar
240ml double or whipping cream
1 tsp of vanilla extract or vanilla bean paste
1 tsp of lemon zest
For the strawberries:
500g British strawberries (halve or quarter if large but leave some whole)
4 tbsp of caster sugar
3 tbsp of elderflower cordial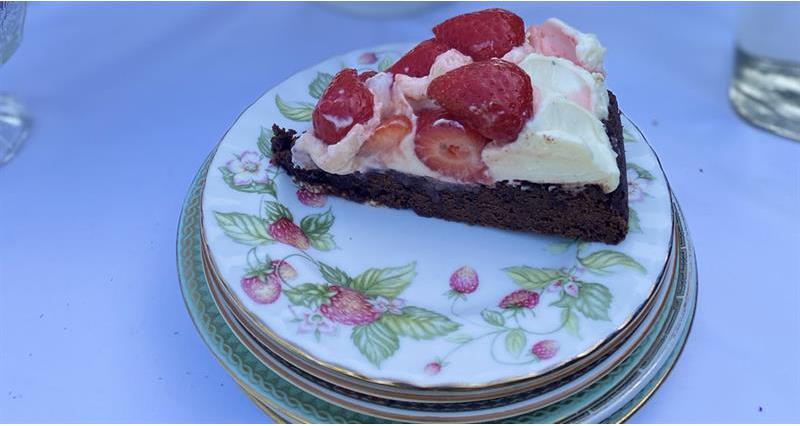 Method
Preheat the oven to 180 degrees.
For the shortbread base, put the dry ingredients into a large mixing bowl or into the bowl of the food processor.
Stir together or whizz in the food processor.
Chop the butter into chunks and rub it in with your fingertips or whizz in the food processor.
Bring the dough together with your hands.
Line a nine-inch loose-bottomed cake tin with non-stick baking paper.
Press the dough into the bottom of the tin and into the base (this is easier if you dip your fingertips in cold water then press down with a fork).
Bake for about 25 minutes or until it is dry to the touch.
Take it out of the oven and let it cool (it will harden as it cools) in the tin before turning it out onto a serving plate or cake stand.
For the filling, put the cream cheese and icing sugar into a large bowl and beat until thick and creamy.
Add the vanilla and the cream and whip until thick.
Gently fold in the lemon zest.
For the strawberries, put them into a bowl (halve and remove tops).
Spoon over the sugar and elderflower cordial and stir gently.
Put to one side to release their juices and go syrupy (about 45 minutes at room temperature is perfect).
To assemble:
Carefully peel the baking paper from the bottom of the shortbread.
Use a little bit of the cream cheese mixture to stick the shortbread to your plate or cake stand.
Pile the cream cheese mixture on top of the shortbread.
Spoon the strawberries on top, put any leftover strawberry syrup into a little jug and spoon over the tart once it has been sliced onto individual plates.
Decorate with edible flowers, elderflower blossom, sprigs of thyme or lavender or mint leaves to decorate.
Serve immediately.