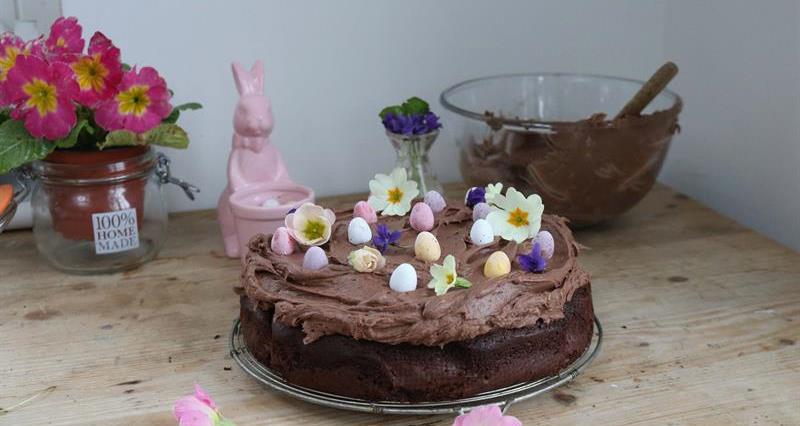 Sometimes all you need is a really good chocolate cake. Simply made with milk chocolate and lashings of sour cream, this cake from Miranda Gore Browne is the kind you want to let children slather with chocolate icing, cover with little chocolate eggs and pretty primroses, and for everyone to 'ooh and ah' over.
Ingredients:
165g soft unsalted butter
225g soft light brown sugar
3 eggs
1 tsp of vanilla bean paste or extract
200g self-raising flour
50g cocoa
Pinch of salt
1 tsp of baking powder
100g milk chocolate, melted
150ml sour cream
For the icing:
100g unsalted butter
150g milk chocolate
100ml sour cream
20g cocoa
250g icing sugar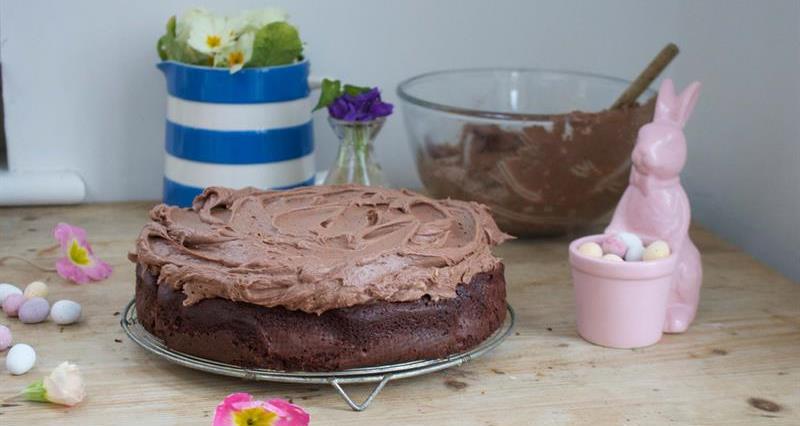 Method
Preheat the oven to 180 degrees.
Cream together the butter and sugar until pale and smooth. Beat the eggs with a fork and add to the mixture a little at a time, mixing well after each addition.
Gently sift in half of the flour, salt, baking powder, cocoa and fold in with a large metal spoon.
Fold in the sour cream and then sift in the remaining dry ingredients and fold again until everything is combined.
Gently stir in the melted chocolate.
Line a large round tin with non-stick baking paper, or use two smaller 7/8 inch tins if you don't have a large tin.
Bake in the middle of the preheated oven for about 25 - 30 minutes if using one large tin and for about 15 minutes if using two shallower seven inch tins.
Take out of the oven and leave to cool before icing.
Put the icing ingredients into a mixing bowl and cream together by hand or with an electric mixer until smooth and creamy.
Swirl the icing onto the top of the cake and decorate with primroses, violets and little chocolate eggs.