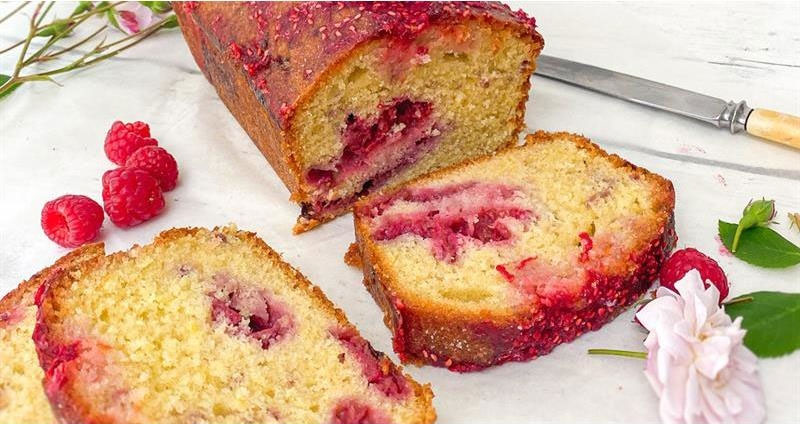 Miranda Gore Browne's British raspberry drizzle cake is the perfect way to enjoy this great British summer fruit.
Ingredients
For the cake:
150g soft unsalted butter, plus a little extra for greasing
150g caster sugar
Zest of one lemon
3 eggs
200g self-raising flour
130g British raspberries (chop in half if very big)
For the raspberry drizzle:
100g British raspberries
70g granulated sugar
Juice of one lemon
Method
Preheat the oven to 180°C, fan 170°C, gas mark 3.
Grease and line a 20cm x 9cm (base measurement) 8cm-deep loaf tin with baking paper or a cake tin liner.
In a stand mixer or using an electric hand whisk, or wooden spoon, beat together the butter and sugar until pale and fluffy. Then beat in the lemon zest.
Break the eggs into a jug, lightly beat with a fork; add to the cake mixture little by little, mixing well each time.
Sift in the self-raising flour; fold in using a large metal spoon until combined.
Then add the raspberries and stir again to combine.
Spoon the mixture into the prepared loaf tin.
Gently smooth the top until level.
Bake the loaf for 1 hour 10 minutes, without opening the oven door during cooking; the cake should be firm in the centre.
For the drizzle, use a fork to squish the 75g raspberries with the granulated sugar.
Stir the lemon juice into the raspberry mixture.
When the cake comes out of the oven, leave it in its tin and spoon the drizzle over the top.
Set aside to cool before taking out of the tin and serving.