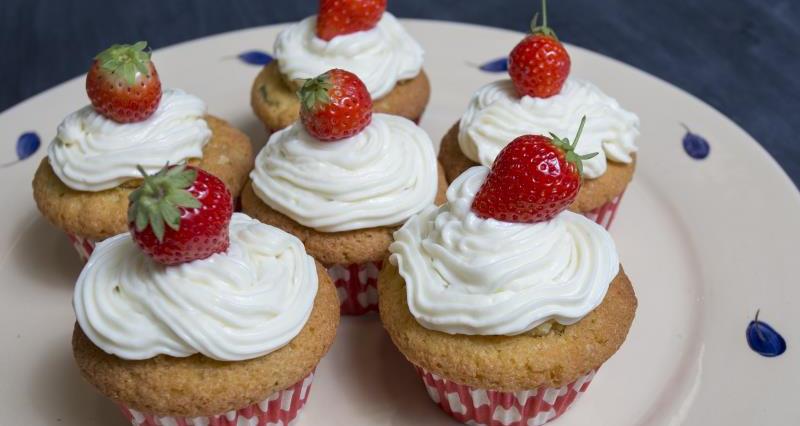 Ingredients
175g British caster sugar
175g British unsalted butter
3 medium British eggs
175g British self-raising flour
14 British basil leaves, chopped into small pieces
12 tsps. British strawberry jam
180g soft full fat British cream cheese
50g British icing sugar
1tsp vanilla extract
12 small British strawberries
Method
Preheat the oven to 180°/160° fan. Place 12 cupcake cases in a 12 hole muffin tray.
Cream together the caster sugar and butter until pale, light and fluffy.
Beat the eggs and half the flour into the mixture for 1-2 minutes.
Add the remaining flour and chopped basil and fold into the mixture, making sure not to knock any air out.
Divide the mixture into the cake cases and bake in the oven for 22-25 minutes until golden and the tops spring back when touched. When cooked remove from the muffin tray and place on a wire rack to cool.
Once the cupcakes are cool, cut out a circle in each cake, add in a teaspoon of jam into each and cover back with the cut out cake piece.
To make the icing beat together the soft cream cheese, icing sugar and vanilla extract until well combined. Either with a piping bag or pallet knife add the icing to the top of the cakes and finish with a strawberry on top.