This month, as many of us celebrate sporting achievement, we ask you to vote for your rural champion.

It could be someone who makes delicious British food, or produces and grows the food we all love to eat. Maybe you know a champion who has helped their local rural community in some way, or shown dedication in their chosen field.
The rural community puts in an herculaneum effort each and every day and we'd love to champion those that work so hard in our countryside.
We'd love to know who you nominate and why and we'll pop along and interview the winner and share their story with you.
Nominations close on the 12 September 2016.
How to nominate
Email: Send in your nominations to our Web Editor, Cherry - Y2hlcnJ5LndpbGxpYW1zQG5mdS5vcmcudWs= with Rural Champions in the title of the email.
Tweet: Tweet us your suggestions. Our Twitter page use #csruralchamp
Facebook: Comment on the rural champions post. Our Facebook page
Prize
We've three fabulous prizes for three rural champions. Many thanks to Hiho Silver and Doris & Co for supporting our countryside heros.
Exclusive Horseshoe Sterling Silver Pendant – handmade solid sterling silver pendant in the shape of a lucky horseshoe, complete with nail holes and gentle oxidisation so it looks just like the real thing. Supplied on a sterling silver snake chain. £55.www.hihosilver.co.uk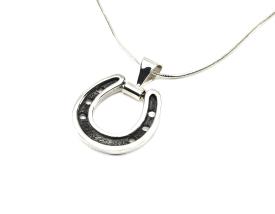 Exclusive Sterling Silver Pheasant Brooch – beautifully designed pheasant brooch that captures the feathers and detail of the long-tailed game bird in full flight. Created by Hiho's talented silversmiths to be extra special. Finished with a sturdy pin at the back to stop it flying away. £55. www.hihosilver.co.uk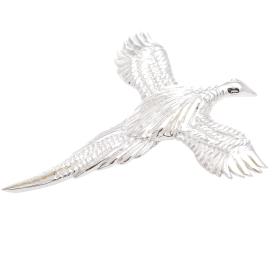 Enough Is As Good As A Feast Jug and Mug – handmade British creamware mug and jug, proudly adorned with Doris's exclusive 'Enough Is As Good As A Feast' design featuring an English hedgerow with blackberries, elderberries and rosehips. The mug has a half pint capacity and is perfect for a much needed cuppa. The one and a half pint jug is perfect for cordial, sweet peas or something stronger. Delightful and dishwasher safe. Mug: RRP £19.95, Jug: RRP: £34.95. www.dorisandco.co.uk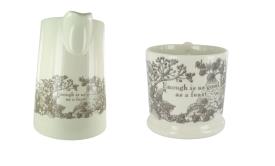 Find out more
Five ways to champion British Farming
Terms and Conditions
Entries must be accompanied by a summary of your nomination.
Shortlisted entrants may be asked to provide further information and to meet with a representative of NFU Countryside Magazine.
Entrants must receive prior written consent from Nominees that they agree to the nomination and these terms and conditions to such a nomination
Employees and office holders of the NFU are not eligible to be nominated to the awards; however they may nominate individuals and teams/firms not employed by the NFU.
Judges' decisions are final and awards will be made at their discretion. Not all the awards advertised will be awarded if the judges consider that the criteria have not been met. Additional commendations may be made at the judges' discretion.
The content of any entry may be used for publicity purposes unless the entrant withholds their consent to this in writing. Content submitted online may be accessible publicly through our website. The content and its publication must therefore be lawful and not confidential.
Entrants and nominees will be deemed to have accepted these terms and conditions, rules and procedures and to have agreed to be bound by them when entering this competition.
We regret that feedback cannot be provided on any individual entries.
By submitting your nomination you are agreeing to be contacted by the NFU.
The NFU reserve the right to cancel, amend, terminate or temporarily suspend the Rural Champion awards at any time with no liability to any entrant, nominee or any third party
To help us manage and maintain the reputation of the Rural Champion awards you must inform us about any negative media stories relating to the nominated person or practice that have occurred during the 12 months preceding the Rural Champion nomination. Negative publicity does not necessarily mean that your entry will be disallowed; however if it is not disclosed your entry may be invalidated.
Eligibility for entry
You may nominate yourself/your own organisation or another individual/organisation. To be eligible to enter, the Rural Champion must be resident in the UK. Submissions must relate to activities or initiatives conducted in the 12 months prior to 1 August 2016 (the month nominations open in).
Judges
The entries will be judged by the NFU Countryside Magazine Editor
Prizes
The prize will be one of the items specified on this page. There is one of each item and is awarded at the discretion of the NFU Countryside Magazine Editor.
The announcement of the winner
The winner will be announced on our website and Facebook and Twitter accounts no later than September 30 2016.
For queries, please email Y2hlcnJ5LndpbGxpYW1zQG5mdS5vcmcudWs=