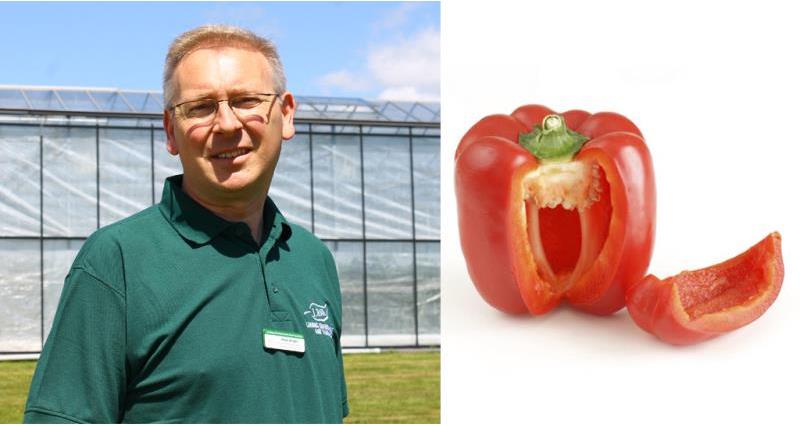 Location: West Sussex
Produce: peppers
Tangmere Airfield Nurseries in West Sussex is sited on the former 'Battle of Britain' airfield. Following the closure of the RAF station in 1970, the land returned to farming and the airfield fell into decline.
In 1988, Dutchman Dirk Houweling purchased the land, breathing new life into the site and establishing an independent horticultural family business.
The airfield is now home to one of Europe's largest pepper nurseries, with 30 hectares (equivalent to 60 football pitches) of the most modern glasshouse facilities in the UK.
Some 65 million sweet peppers are picked each year at Tangmere, supplying more than a third of peppers grown in Britain that are supplied to retailers across the UK.
"Peppers are an exciting product to grow – they come in all different shapes, sizes and colours offering an amazing array of flavours," says Mark Knight, (pictured)crops manager at the nursery. "Each of our specially-selected varieties has unique qualities and requires a different growing approach."
A tiny pepper, about 1cm in length, takes 35-40 days to grow to the mature green colour, with a further three weeks to transform into the other colours. Tangmere's expert teams carefully manage the crop and assess the ripeness of the peppers.

"The UK growing season begins with planting the crops in December, then harvesting the peppers from March to late November. We pick every pepper by hand at exactly the right time to maintain flavour and freshness," Mark says.
"Our bell peppers are grown sustainably in our climate-controlled glasshouses using a hydroponic system without the need for soil."
The growers are able to precisely control the amount of water and nutrients given to each plant and regulate the climate in the glasshouse. Light, temperature, air humidity and CO2 concentration is accurately measured.
Light, Mark explains, is one of the most crucial elements to growing the perfect peppers. "Poor light levels and cold weather can impact on quality and yields. The design of the glasshouses helps us to maximise the available light. We use the glasshouse vents and energy-saving screens in ways that benefit plant growth and enhance the quality of our peppers."
Tangmere Airfield Nurseries also hosts primary school visits to inspire children and support their learning about the journey of food and healthy eating.

"Children can see first-hand the different stages in the life of a pepper and the journey it takes to get to their plates," says Zoe Smith. "They also have the opportunity to taste a variety of different peppers – always popular with the younger children. We are encouraged to hear from teachers that children are snacking on peppers in break times."