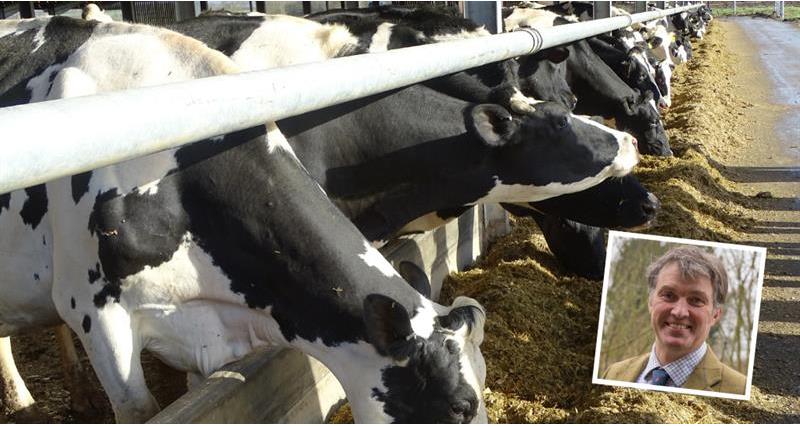 Name: John Torrance
Farming sector: Dairy
I am the third generation of farmers in my family. My grandfather moved down from Scotland in the 1920's and took up a Crown Estate tenancy. I then followed in the footsteps of my father. Our farm is one of the few farms within the M25 near Romford and is only 15 miles from central London.
Our dairy herd consists of 500 Holstein cows and we employ eight full time staff to help run the farm and ensure our cows are professionally looked after. We operate an indoor system as experience over the generations has shown that we can't rely on adequate quality of grass for our cows due to the dry conditions we experience in this part of Essex. Our milk yields have to remain the same all year round in order to meet our milk supply contract, which would be impossible if we relied on outdoor grass feed all year round.
Our cows are housed in a large barn, which is well lit and airy. The cows have two areas that they can use, the first is in the centre of the barn and is like a large sandpit, where the cows can lie down in comfort as the sand moulds around their body and the other area, which covers the whole outer area has rubber matting covering the floor, where they can mix and mingle with their other herd mates. The cows have free access to fresh water and food and can roam between areas.
The welfare of our cows is crucial as without a relaxed and healthy herd we wouldn't get the milk yields that enable us to have a reliable business. We milk the cows three times a day in a separate parlour.
Every time the cows are milked the barn is cleared and cleaned so the cows always return to a clean environment. The cows' dietary needs are met by a nutritionist who advises us on the best feed to meet all their dietary and health requirements. Their daily feed includes freshgrass, maize silage and wheat, much of which is grown on our farm.
The way we farm has been developed over many years and we are proud of our dairy cows and our husbandry standards.