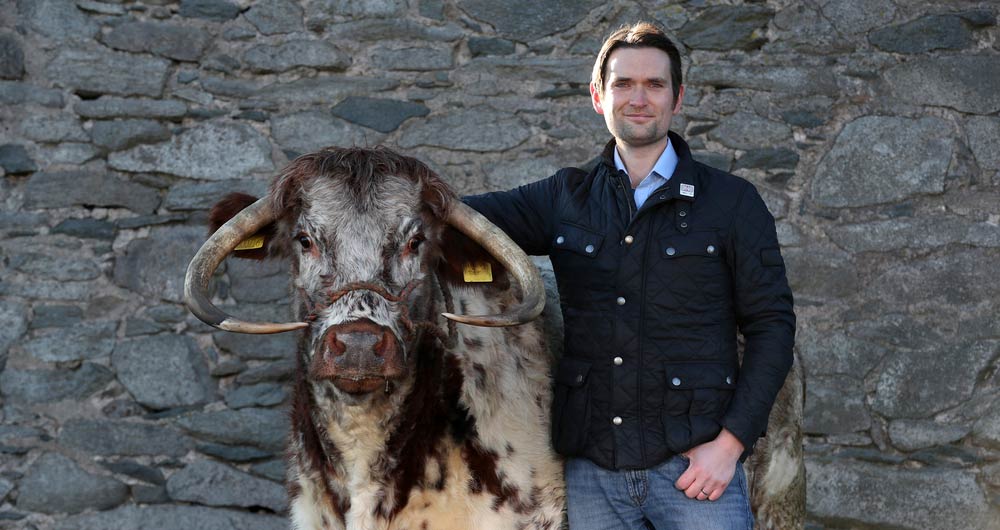 2020 has seen new life on the farm, writes regular Countryside columnist, Joe Stanley. He writes:
January 3 2020 proved to be a day of firsts at Spring Barrow Lodge as we saw in the new decade. Three-year-old Blackbrook Belladonna gave us our first calf of the 2020 crop (pictured below). It was also the day that my wife brought our first child into the world (though not in the cattle shed!).
Both Belladonna and Kathryn had been showing signs of labour since the New Year, and the race was on… As Kathryn experienced the care of the NHS, Belladonna was experiencing that of our stockman, Lee, who sent me regular updates on her progress. You can take the farmer out of the farm…
In the end, Blackbrook Eve was delivered a few hours before Edward Stanley, and both first-time parents are doing well and taking to their new roles like naturals.
As has become traditional for the first calf of the year, we used the Blackbrook Twitter account to post a film of the newly-delivered calf and appeal to our followers for naming suggestions.
The only stipulation was that, as a 2020 calf, the name had to begin with 'E', continuing a tradition dating back to the herd's foundation in 1989 when we started with 'A' and worked our way through the alphabet. After 31 years, we've gone through it once (including the really tricky letters!) and have started all over again. After more than 40,000 views and 500 suggestions, we thought 'Eve' was most fitting for the first baby girl of the year. As for 'Edward'; well, he just looks like an Edward, and the 'E' lettering is pure coincidence rather than herd solidarity!
The Blackbrook herd is a traditional pedigree beef suckler unit. That means that we keep our cattle for their entire lives, from birth to death. For our females that means a long life on the farm where they can expect to live for well over a decade, producing calves annually from the age of three, which they raise themselves until they join the herd at nine months old.
The girls then follow the same path as their mothers, while the boys will be raised as stock bulls, either for our own use or for sale to other herds. Those bulls which don't make the grade as breeding animals will be 'fattened' for beef and taken to market or local farm shops at around two years old. Relatively few of our cattle end up in the food chain, with most being retained or sold for further breeding.
Board and lodging
We house our cattle indoors over winter and manage their breeding programme to ensure that calving takes place in this period, beginning in January and lasting until March. This ensures the best level of care for our girls as they are all close at hand, simple to keep an eye on and easy to help if needs be.
We're lucky in having the facilities to bring all our cattle indoors over winter; they reside in large open sheds previously occupied by our dairy herd, which, unfortunately, we had to sell in 2005 due to the incredibly challenging conditions facing dairy farmers in the UK. But more on that another time.
Our cows are kept in groups of 10-15 in large straw pens, based loosely around similar calving dates. As individuals calve, they're then removed from the group and placed into fresh pens with other newly-calved cows, before being turned out to pasture in the spring.
Groups of young bulls, weened from their mothers, are kept together and they get along as friends. Older bulls, however, must be kept individually in strengthened pens away from females - to keep them from getting too excited!
The daily routine begins at 7.30am with feeding each group of cows, followed by any bedding of fresh straw which is required to keep everybody clean and cosy, then a final round of feeding around 3pm before we close the sheds for the night as it gets dark around 4pm during the winter months.
Calves can arrive at any time, and perhaps one in five might require some assistance to be born safely – especially if they arrive backwards, with the risk being that they might drown before their heads emerge. Within minutes, they'll be on their feet, and hopefully feeding from their mothers within an hour.
Sadly, British farming has been under fire in the media yet again in recent weeks, more often than not from people with little to no understanding of the high standards we operate to. Writing this, with my new-born son by my side, I'm incredibly proud of the work I do in producing high quality food and stewarding the environment of my little patch of the countryside. One day I hope to pass that noble task on to him; I don't really own my farm, I'm merely looking after it for the next generation.
Read more from Joe Stanley: