Countryside columnist Charlie Beaty sheds some light on the lambing process. She gives us a tour round and shares some great pictures of this years lambs.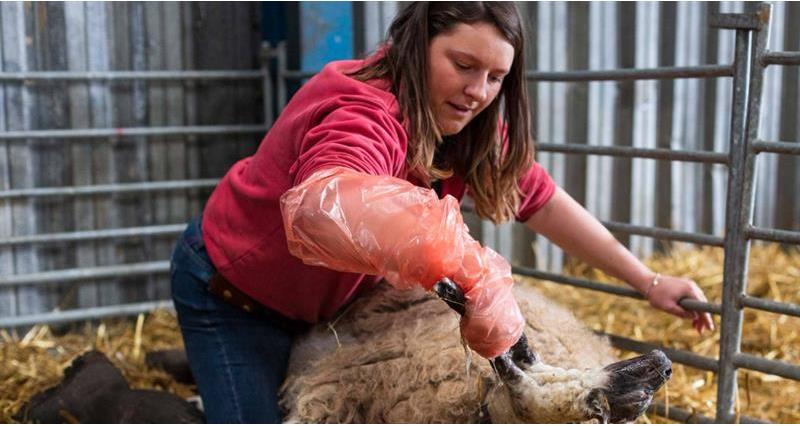 With only 330 breeding ewes here, we're not huge in the sheep farming game. But they keep us busy at certain times of the year, with lambing time being the main event in the sheepy calendar. We bring the ewes into the sheds to lamb, as we start around the third week in February, when the Great British weather is still fairly temperamental!
---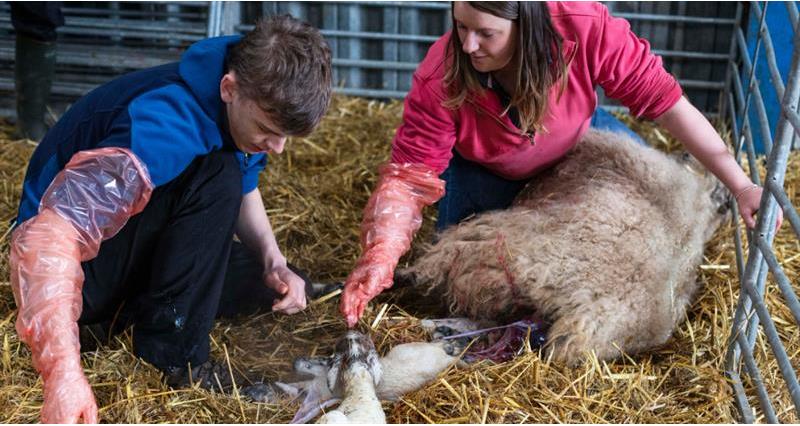 One of the best parts of lambing! We only have to assist a small handful of the ewes when lambing, most will do the job just fine by themselves. Here I'm showing Freddie, our lambing student, how best to assist. The first of the three lambs that this ewe had was trying to come head first with both of it's front legs back. This was causing an issue as the lamb's shoulders were getting caught on the ewe's pelvis. Had we not assisted, we would have lost all three lambs that the ewe was carrying, and possibly the ewe too. Luckily, it just took a bit of manoeuvring and the lambs we delivered. Freddie did a sterling job!
---
Why don't we look at lambing a few weeks later on, I hear you ask? For us, the sheep have to fit around the arable and calving calendar. Late March and April are usually when we're busy applying fertilisers to the winter crops, so to lamb then too would be impractical. So late February, early March it is. And, on a year like this, where it doesn't seem to have stopped raining for the past 8 years, I am EXTREMELY glad that we lamb indoors.
---
When the lambs are first born, we spray plenty of iodine onto their navels. The navel acts as a motorway for bacteria and if not sprayed can pave the way for infection. The iodine dries the navel up and blocks the way for infection. It's vital this is done, especially as the indoor lambing sheds are a haven for bacteria - it really thrives on the straw.
---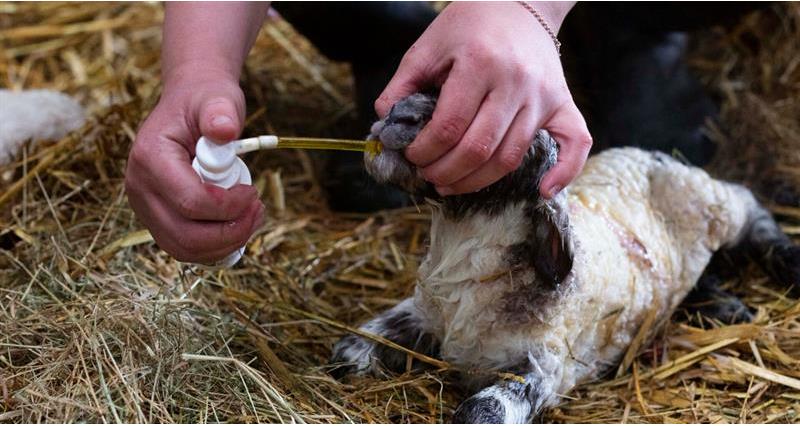 We dose certain lambs with an oral antibiotic, to prevent against infections such as E.Coli. We tend to dose all of the triplet lambs and any smaller twins too.
---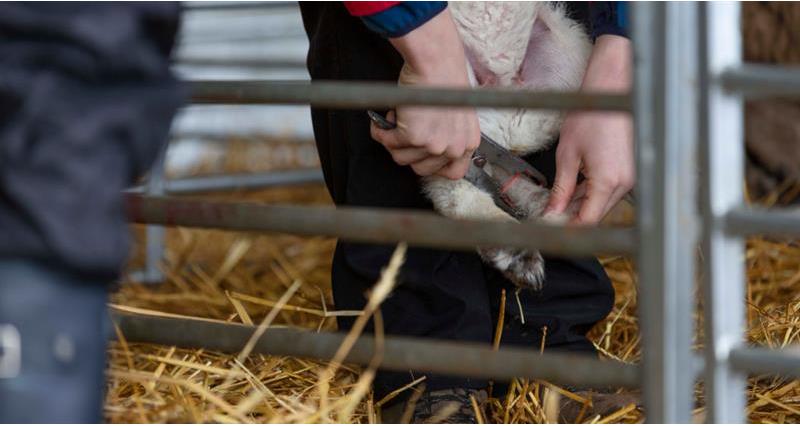 We dock the tails of all lambs, and castrate all ram lambs using castration rings. This allows us to leave the male and female lambs together once they've reached sexual maturity (~6 months) without any unexpected surprises!
Docking the tails significantly reduces the chance of the lambs getting fly strike (maggots) over the summer. Docking has not productional benefit to us, and is purely for the lambs own welfare.
---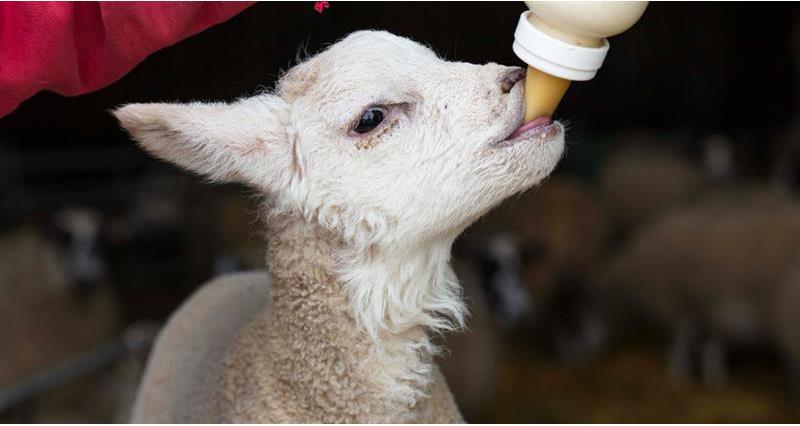 It's inevitable that we end up with some 'cade' (orphan) lambs each year - luckily they're pretty cute! If they're strong ewe lambs, we usually end up keeping them as breeding ewes. It's nice to have a couple of tame ewes about the place - we're softies really!
---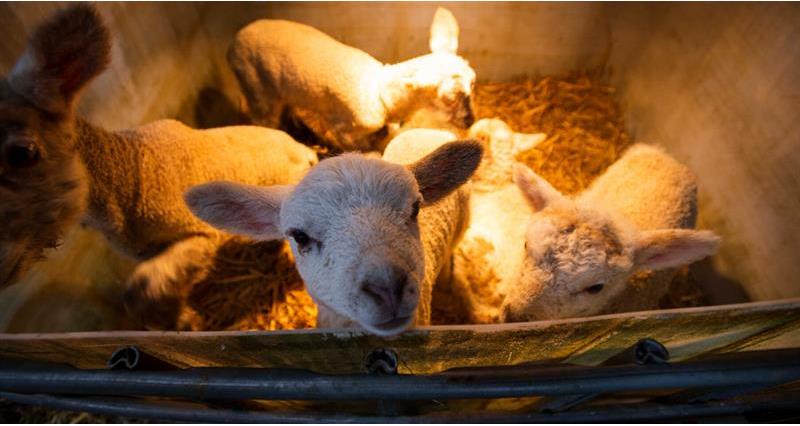 The young cade lambs are housed under a heat lamp, as they don't have the warmth from their mothers.
---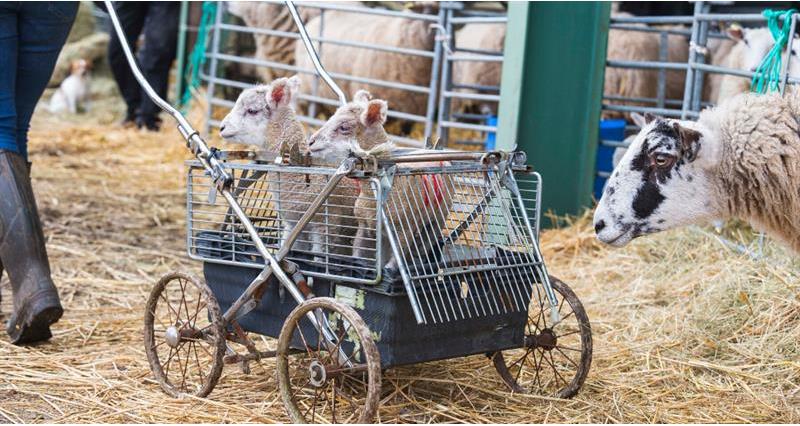 The 'Lamb Pram' in action!!
The older and more experienced ewes are pretty easy to move, and will follow you when you're carrying their lambs, but younger, first time mothers tend to be a bit more flighty. They much prefer to follow the 'lamb pram' instead. Ours is a bit make-shift - there are other, much fancier models available!!
---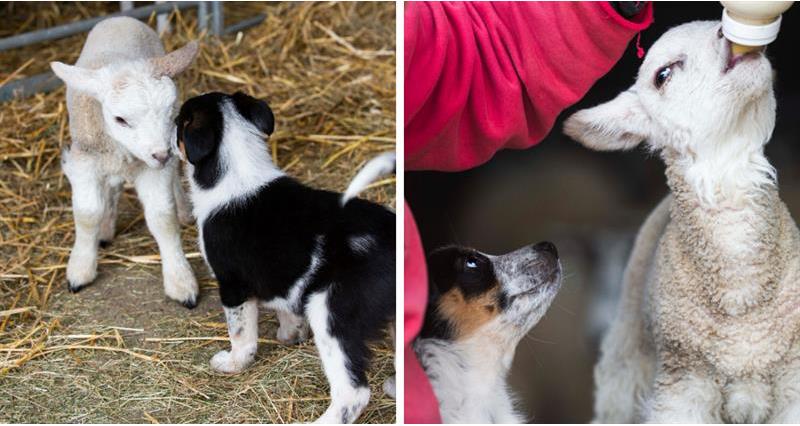 Starting them young! This is Mae, who will grow up to be a working border collie. She's not quite got the hang of it yet though!
---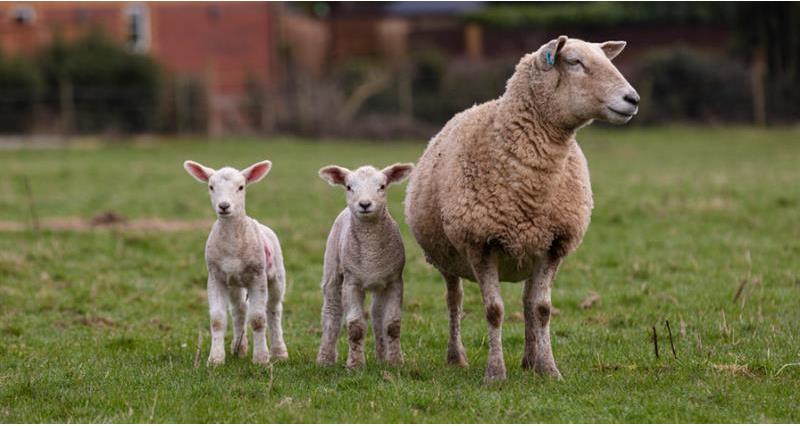 When the lambs are a couple of days old, providing they're strong enough, they're turned out into the fields with their mothers. The lamb's numbers match their mothers number, so that if anything happens we know who belongs to who and we can reunite them where possible.
---