As the nation battles the coronavirus pandemic there's never been a more important time for communities to come together and support each other.
Farmers, farm shop owners, breweries and restaurateurs have all been stepping up to the plate to help keep things going – particularly through the provision of food – during these dark and uncertain times. Kate Chapman has been speaking to some of those who have been going above and beyond to help others….
Pop-up farm shop: British Food Box
A pop-up farm shop and home delivery service set up by two young farmers to help their local community get access to food during the coronavirus outbreak is proving a vital lifeline for villagers.
Recognising the difficulties local people were facing in getting food from supermarkets and with a van suitable for food deliveries at their disposal, the couple behind the British Food Box business – Hannah Kinston and John Davies – decided to start offering home deliveries of a range of food products and household essentials within a 10-mile radius of the farm.
British Food Box is a local food wholesale business which normally delivers dairy products to farm shops, restaurants and pubs across the region and runs a monthly cheese sale at Lodge Farm, Snarestone, DE12 7DA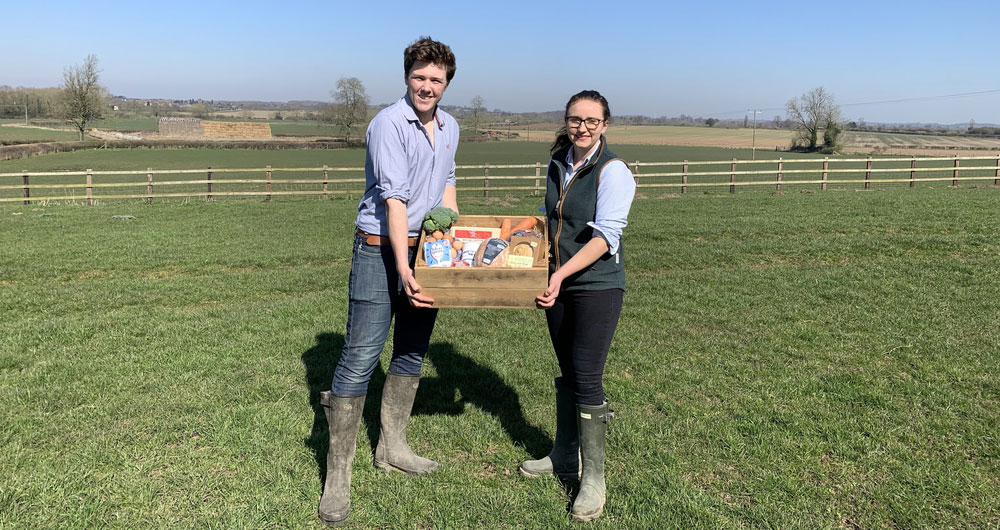 "The phones haven't stopped since we started offering a home delivery service for people who are unable to get out to a supermarket to buy food," says 22-year-old Hannah.
"We are working together with a number of other small local food producers so we can offer people a range of products such as bread, milk, cheese, butter, eggs, yoghurt, meat pies and vegetables.
"A number of our customers are elderly or vulnerable and were becoming really worried about buying food, given how hard it is to secure an online supermarket delivery. It's nice to be able to support them and take some of that stress away."
Such has been the level of demand that 22-year-old John and Hannah have already employed four extra members of staff to help field phone calls, collate orders and get the deliveries out to local people.
People can also buy direct from the pop-up farm shop, but are asked to comply with social distancing measures for their own and others safety. To obtain a full list of the food available email: b2ZmaWNlQGJyaXRpc2hmb29kYm94LmNvLnVr or call 07817 808392.
---
Nigel Wilkes of Herefordshire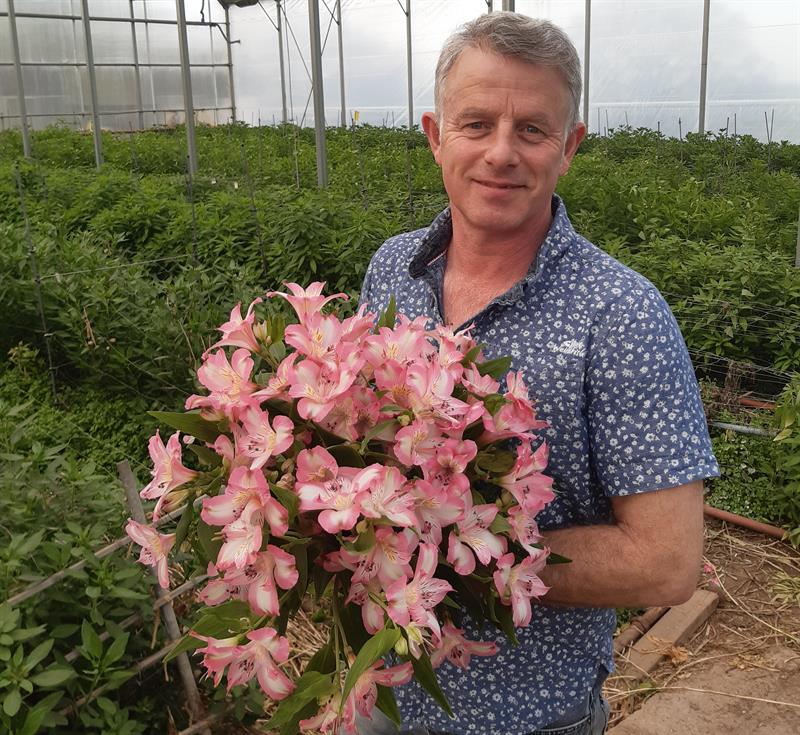 A Herefordshire grower who lost the market for his flowers overnight due to the Covid-19 pandemic, is donating his blooms to support NHS staff at the county's hospital. Nigel Wilkes grows 36 different varieties of Alstroemeria (Peruvian lilies) at the family business, Kentrev Nursery, at Llangrove, but due to disease restrictions he has seen his usual markets, wholesalers and florists, close.
Rather than see his Alstroemeria end up on the rubbish tip, Nigel had decided to send bunches to thank the staff at Hereford County Hospital instead.
Mr Wilkes said: "We made the choice that what we couldn't sell we would try and give away, wherever possible, and give something back to the NHS; we'd rather bring a little joy than dump all of our hard work on the floor."
---
Chris Barton of Lincoln
Third generation farmer Chris Barton has been out and about delivering bags of potatoes to vulnerable and elderly residents in the rural community north of Lincoln.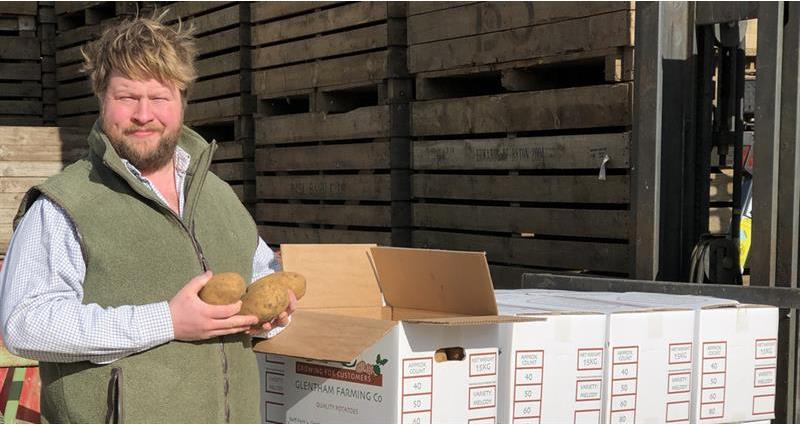 His wife Amber said the parish council has drawn up a list of residents unable to get to the shops, who might benefit from a delivery. "Potatoes are really versatile, they're good for you and they keep – we've had a great response from those we've visited, and we've also had a couple of phone calls from ladies saying how thankful they are for the deliveries, which has been nice," she added.
---
Corkers Crisps near Cambridgeshire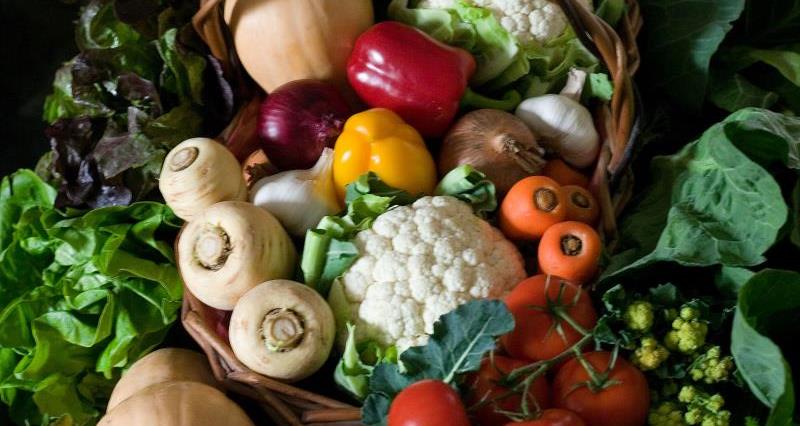 Community spirit is alive in Little Downham, near Ely, in Cambridgeshire, where parish councillors and the team at Corkers Crisps, Taylors Potatoes amd Head Fen Country Retreat have joined forces to the vulnerable free of charge.
Posts have been shared online urging anyone who would like a free delivery, or who knows a resident who would benefit from one, to get in touch.
A spokesman for the scheme said there had been a good take-up to date, with many boxes containing cauliflower, cabbage, carrots, parsnips and potatoes already delivered to incredibly grateful recipients.
---
West Sussex Growers create hospital garden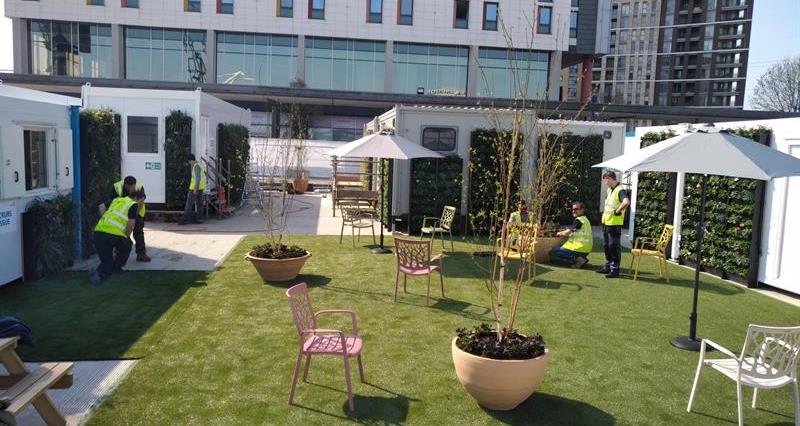 Members of West Sussex Growers' Association (WSGA) have created and planted a garden for keyworkers at the new NHS Nightingale Hospital in East London.
Richard Sabin, of Chichester-based firm Biotecture spearheaded the project, gathering a team of volunteers from companies within WSGA, a specialist branch of the NFU. The team then spent several days putting together the chosen plant combinations, transporting plants to London and then planting up this new well-being garden for NFU staff.
Mr Sabin said: "I was blown away by the support we received and we will be making a video to give full recognition of the part played by everyone, including several members of the West Sussex Growers' Association. All willingly volunteered and it was a very humbling , and rewarding, project to lead. At the end of the installation day, I was approached by an NHS director who said: 'This is incredible. I cannot begin to say what this will mean to the staff working at the hospital. Thank you so very much and please pass on our thanks all involved'."
---
A butcher and baker join forces in Lincolnshire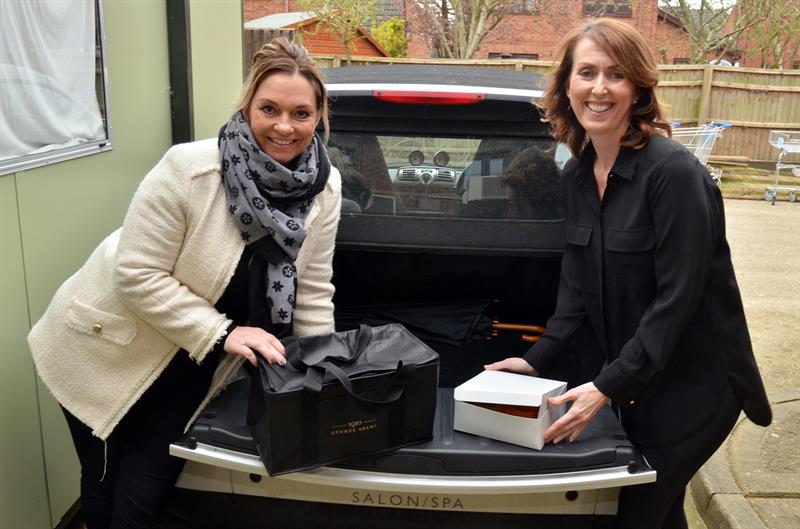 A butcher and baker in Lincolnshire market town Spalding have joined forces to ensure vulnerable residents unable to shop due to Coronavirus can still get food. Pacey's bakery and George Adams Butchers have launched a free delivery service taking bread, cakes, meat pies and ready meals to the over-70s and others deemed at risk in the surrounding area.
---
The Farm, Warwickshire
The Farm, in Stratford-Upon-Avon, Warwickshire, has launched a home delivery service for customers living within a five-mile radius of the shop and a 'call and collect' service for those further away.
Shoppers can order various fruit and vegetable boxes, as well as care packages for delivery or collection.
In addition, the Ward family has also prioritised a one-hour shopping slot for NHS and key workers from 7am to 8am, and from 9am to 10am, Monday to Saturday, for the vulnerable and elderly.
---
The Royal Barn pub and Kirkby Lonsdale Brewery in Cumbria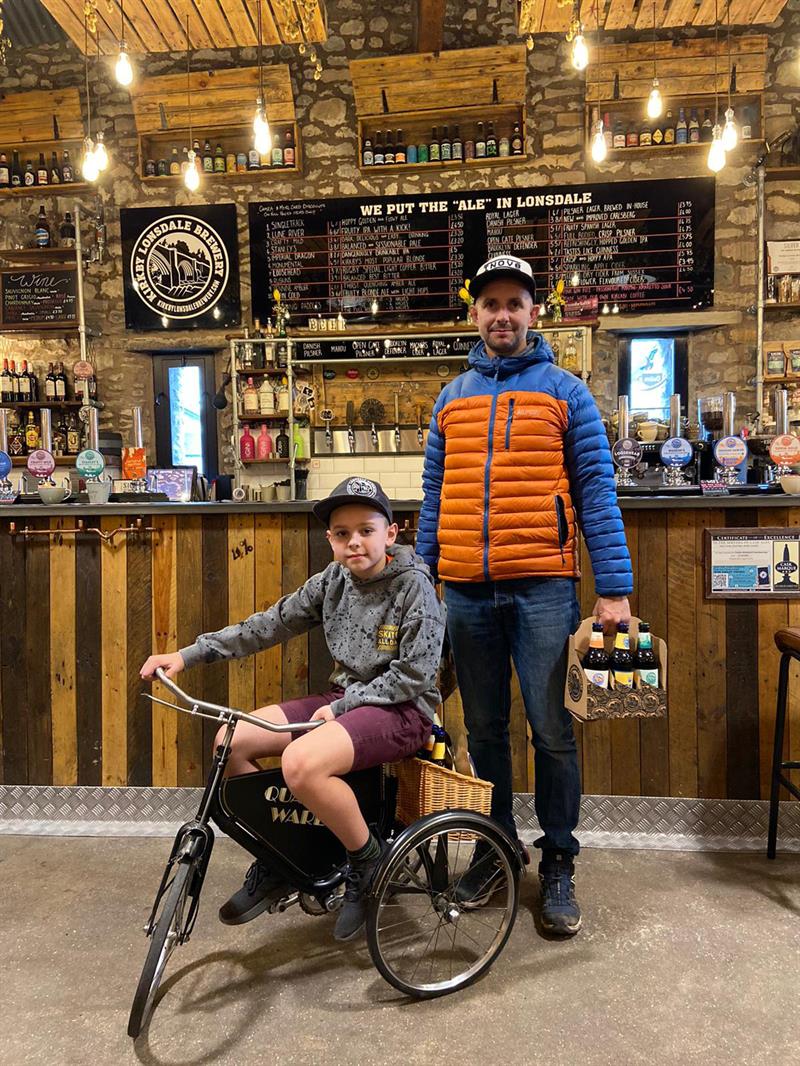 Keen cyclist and owner of The Royal Barn pub and Kirkby Lonsdale Brewery, in Cumbria, Stu Taylor has taken to his bike to deliver to locals.
Stu, who cycled 5,000km for charity last year, has ordered a trailer to attach to his cycle and will use it to deliver beer and coffee around the town.
Until it arrives he's going via pedal power and on foot aided by his ten-year-old son, Zach.
Stu said: "The team is aware that for some people in our community, the best option for them is to remain at home for the moment. That's why we decided to bring The Royal Barn to them at home. Either by bike or on foot, we'll deliver.
"It's important to rally together and support each other during these uncertain times, so we hope this home delivery option might at least help bring a smile to some faces."
---
The DPJ Foundation in Wales
The DPJ Foundation, which supports people in Wales in agriculture with mental health concerns, is connecting those who are self-isolating and at risk of being lonely with a 'DPJ pal'.
Pals will call every few days for a friendly chat about anything and everything to help pass a bit of time with a familiar voice.
And for those struggling to undertake tasks on the farm due to illness, the organisation is also trying to find volunteers who can step in to help.
---
The Flower Farm, Surrey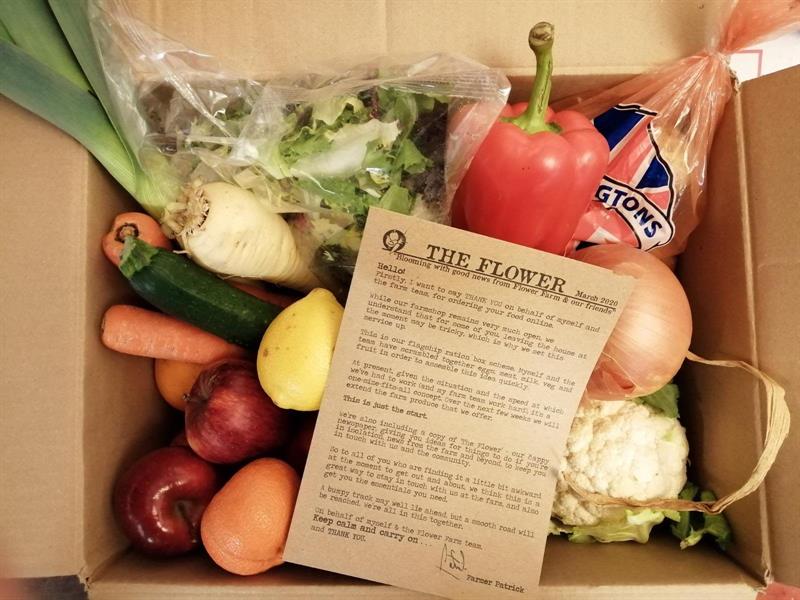 Godstone food producer and farm shop, the Flower Farm in Surrey, has launched its first online delivery service, creating jobs for those who've found themselves out of work amid the coronavirus pandemic. Farmer Patrick Deeley and his team have been working around the clock to set up an online food delivery system where people can get essentials from the farm delivered to their door.
"With things as they are at the moment, any help that we can give to people in the community – near or far – has got to be a great thing," said Patrick. We are working seven days a week, sometimes 20-hour days, in the shop and many of my team haven't seen their families for days – like thousands of other people in the country who are key workers, we're all in the same boat."
---
Young farmers rally together
Strathearn Young Farmers have been doing their bit by offering their services to the local community too. Club secretary Hannah Graham and chairman Crawford McLaren reached out to the public via the group's Facebook page, sharing their contact numbers and urged anyone who needed help in any way to contact them.
Probus Young Farmers, Cornwall, have launched a dedicated phone line so the elderly and vulnerable in their communities can seek help during this difficult time. Members, pictured here before the government's social distancing guidelines came into effect, are offering to collect and deliver urgent supplies including shopping, picking up medicine and topping up gas and electric cards and say the phone number is also available for those who just needs someone to talk.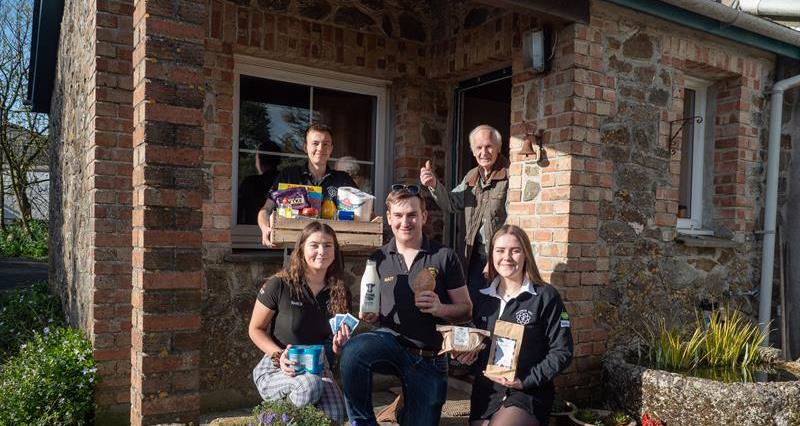 In a video on the club's Facebook page, club chairman Sam Oatey said: "Now's the time to come together and support your local community, but most importantly your British farmers. "The more we come together, the faster we can overcome this. This is what young farmers really do."
---
The Farm Café in Lincolnshire
The Farm Café, in Fleet, Lincolnshire has been hailed a lifesaver by staff at a nearby care home after the veg shop there stepped in to help with supplies.
Duty manager Nadine Weston said The Kimberley Care Village, in Long Sutton, had been let down by suppliers and restricted on how much food it could buy at supermarkets.
She said staff were desperately struggling to find potatoes, vegetables and fruit to feed elderly residents because such large quantities were needed but the veg shop came to their rescue and was incredibly helpful.
---
Balgove Larder Farm Shop, St Andrews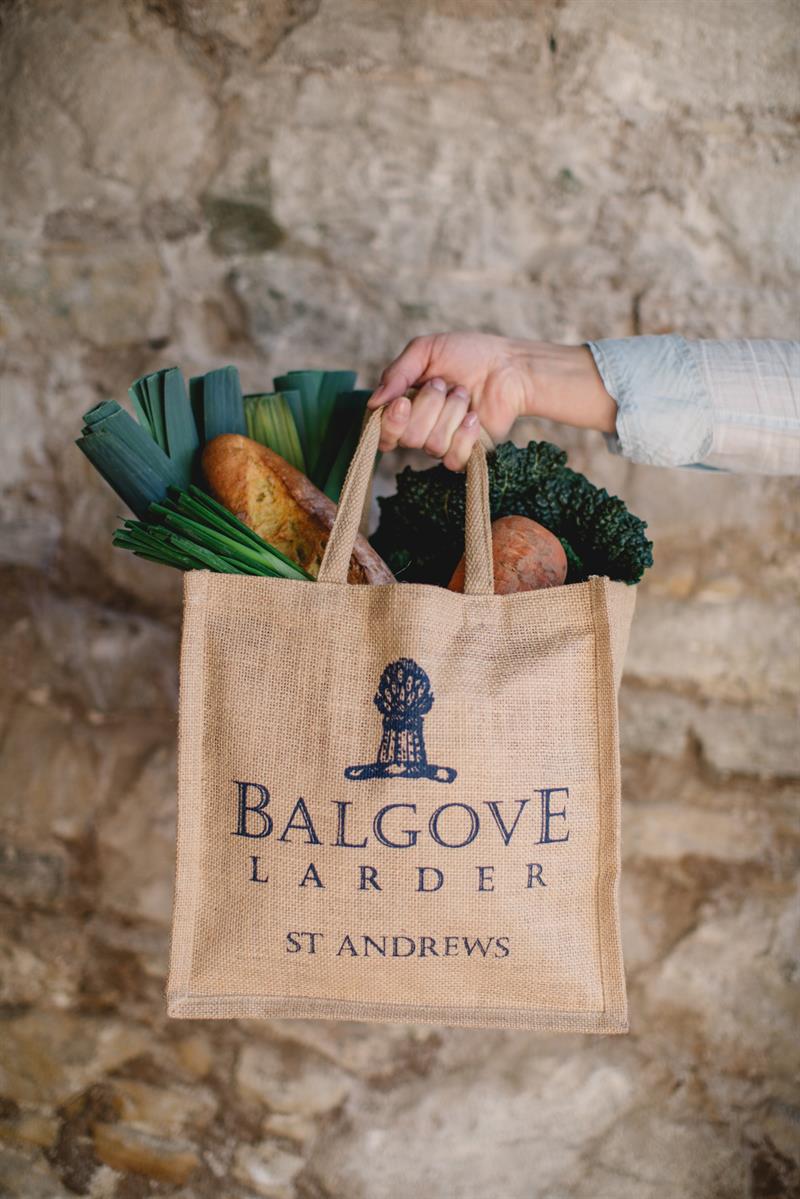 Balgove Larder Farm Shop, in St Andrews, is offering free home deliveries in the local area to those who are self-isolating.
Customers can call and place their orders over the phone before arranging to have their groceries - including fresh fruit and vegetables, meat from the butchery and produce from the delicatessen - delivered in a non-contact way.
The store's new telephone system is aimed specifically at those who may be less familiar with shopping online.
---
Newton Farm Foods, Bath
The team at Newton Farm Foods just outside of Bath are serving people in their farm shop, and their increasingly popular home delivery service, paying particular care to abide by the government's Coronavirus rules.
"We have cleared our shop of everything non-food, spaced things out as much as possible and put signs, sanitiser and white lines on the floor to help people with their social distancing," says owner Celia Gay. "The home delivery service for the over 70s and vulnerable people is becoming extremely busy; the home-made ready meals proving really popular and people are buying lots of meat," she adds. "There is obviously huge demand now from everyone, so for others we are operating a 'click & collect from the carpark' service." Products available for delivery include fresh produce such as meat and dairy, as well as fruit and vegetables and grocery items such as flour and dried goods.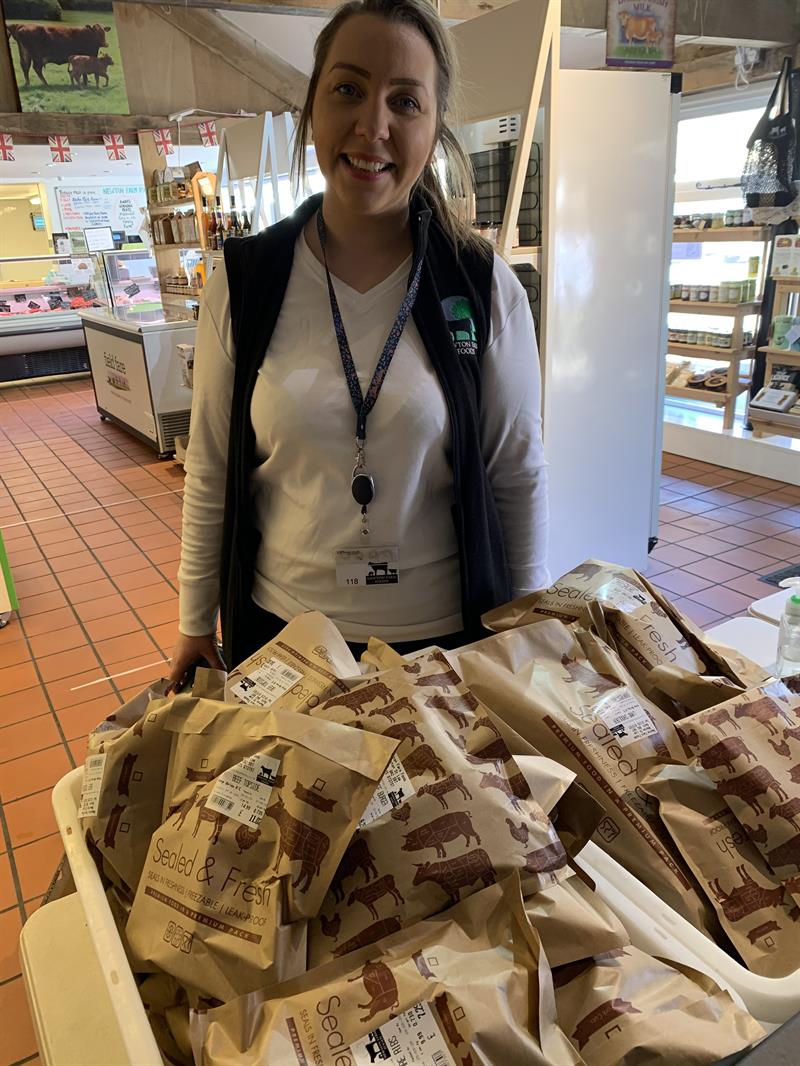 Jerome Challen, Buckinghamshire
Kind hearted egg producer Jerome Challen, from Buckinghamshire, has been donating some 600 eggs per week to NHS staff at Wexham Park Hospital in Slough.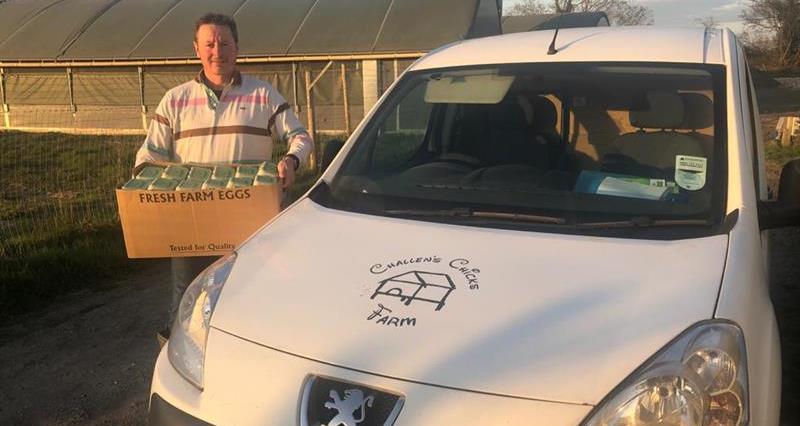 Mr Challen, of Challens Chicks, explained: "I have been delivering once a week to the hospital for some time now. I heard sometime ago, through one of my customers, that the doctors and nurses had not got the time to go shopping for their food and they had offered to buy some eggs.
"It did not sit well with me to sell them, so I donated them instead and I have been ever since."
Mr Challen informed his customers via email what he was doing, reminding them all of their part in this gift to doctors and nurses."If it was not for them being customers I would not be in the right financial position to give away produce," he explained.
Mr Challen added: "I normally would not want to take a photo of myself and so on, but I like the idea of my customers feeling they are part of something useful and positive. This contribution, even if it is somewhat a drop in the ocean, should have the right effect physically as well as mentally, for everyone involved."