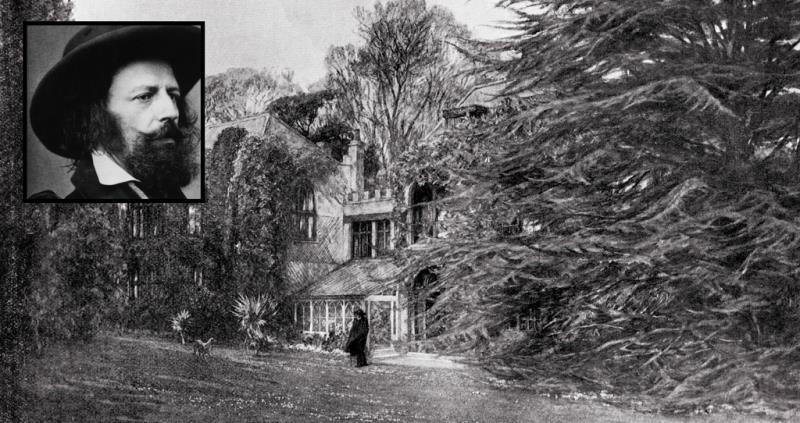 "I have a personal interest in every leaf"
Alfred Lord Tennyson was heavily influenced by his childhood days in rural Lincolnshire, discovers Emily Scaife
Long before he became the closest thing the Victorian age had to a celebrity, Alfred Lord Tennyson was busy jostling for space and attention with 11 siblings at Somersby Rectory in Lincolnshire. The children were often left on their own, indulging in elaborate games such as battles fought out in different fields assigned to each brother as their 'country'. They fished, rambled and wrote stories - the latter carefully placed underneath vegetable dishes at dinner time to be read aloud once everyone had finished.
Even at this young age, Tennyson's talent shone through – one of his serials entitled 'The Old Horse' reportedly ran into several weeks.
His love for animals and nature was cultivated in childhood, but persisted throughout his life. His early poetry was heavily influenced by Lincolnshire, to the extent that he was still writing in the local dialect long after he moved away.
However, the English landscape provided him with inspiration until his death in 1892, aged 83. During this particular window of time, poets such as Tennyson, Keats, Rossetti and the Brownings made careers out of providing sentimental Victorian readers with idylls to admire when the modern world was found wanting.
Literary critic Michael Bunce wrote: "Mid-Victorian readers were presented with a vision of an English countryside in which woods, wildflowers, grassy-banks and birdsong were at the centre of the idyllic scene. As an escapist view of an English countryside in which nature symbolised a place where civilisation had not yet reached, this kind of poetry not surprisingly acquired a popular following amongst middle and upper classes struggling to relate to industrial progress."
However, Tennyson was also aware of the power and indifference of "Nature red in tooth and claw" too. This Victorian quirk of being torn between nature and industrialisation, past and present, was a common dilemma, but one probably best demonstrated in Tennyson's works.
It's a big claim to call one particular writer the biggest perfectionist in the history of English literature. But in the case of Alfred Lord Tennyson I believe it's justified, as I doubt Robert Browning would have labelled his approach to revisions as symptomatic of "mental infirmity" lightly.
This attention spilled out over into other areas of his life, not least, his love of his beloved garden at Farringford House, his home on the Isle of Wight.
"I hope no one will pluck my wild Irises which I have planted," he wrote, "if they want flowers there is the kitchen garden – nor break my new laurels etc. whose growth I have watched. I don't quite like children croqueting on that lawn. I have a personal interest in every leaf about it."
Tennyson moved to the Isle of Wight in 1853, just three years after he married Emily Sellwood and a year after his son, Hallam, was born. He opened up the old paths in the neglected woodland behind the house and built a summerhouse from which he did some of his writing.
His garden, which he described as 'careless ordered', was needless a great source of diversion for both the Tennysons and anyone who happened to visit. Prince Albert left with a bunch of cowslips after visiting in 1856 and he was clearly enamoured, later championing Tennyson as the choice to follow William Wordsworth as Poet Laureate.
The scenery inspired some of his most famous poems, namely Maud, Crossing the Bar and The Charge of the Light Brigade. It was while he was crossing the Solent for Farringford from his summer home at Aldworth in Surrey that he composed Crossing the Bar. He hoped this short poem would close all the volumes of his poetry, so it seems fitting that I finish this article in his own words:
"Twilight and evening bell,
And after that the dark!
And may there be no sadness or farewell,
When I embark."