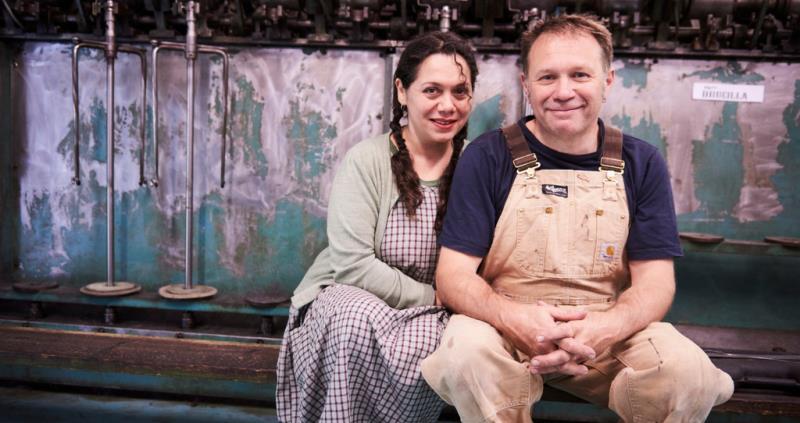 Lorna Maybery talks to John Arbon who runs a traditional worsted spinning mill in North Devon producing high quality socks made from British wool.
Q So why did you decide to make socks?
A My background is in textiles and I moved to the south west to consult for the British Alpaca Fibre Cooperative. When they folded I decided to carry on. I always thought socks were a good, interesting product to make and I've always had a fondness of socks! I wanted something that wasn't so fashion-led and the easiest product was socks. They're fun but don't change much and aren't too complicated to manufacture. We also sell yarns.
Q Why did set up your own spinning mill?
A I found difficulties trying to get what I wanted done in the UK. I could easily have had socks and yarn made out in China, but it's not what I'm about. So a friend in the industry said, well, John the only way you're going to do it, is to do it yourself.
So I bit the bullet and started buying bits of machinery and set up the business using space at the Coldharbour Mill in Devon. It's an old working mill museum, so I was using some of their kit, which is very old, and was renting space from them in the old wool preparation sheds. Here I slowly assembled my own machinery, so in the end I became self-sufficient.
Q Was it difficult to find the equipment you needed for such a specialist craft?
A We've got a range of machinery, dating from 1900 to 2016 – we've just bought a brand new winder, which was a bit of a departure for us.
About 90% of the machinery we use is old as we are traditional worsted specialists. I had to hunt around for the right equipment and bought a lot of machinery from a worsted spinner in Halifax.
He had been running his business for years and was retiring. He was one of the last small-scale worsted spinners still in business.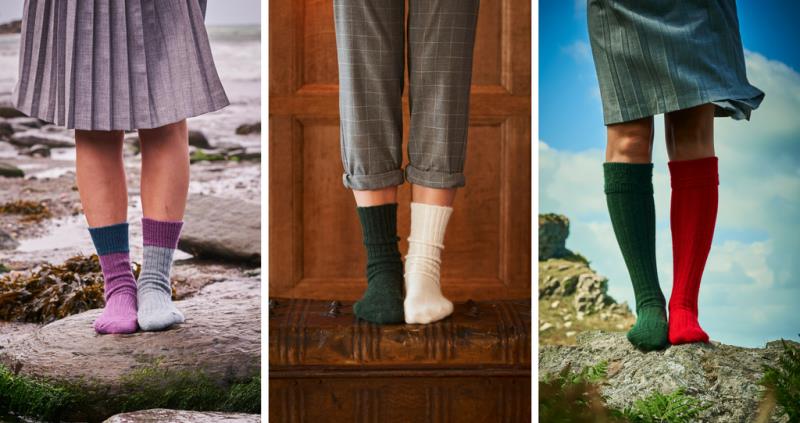 Q Are you still based at the museum?
A No. Once I had acquired the machinery
I needed I realised we had outgrown the space, so we relocated to an industrial unit, which doesn't look so glamorous but is far more practical and easier for getting in and out of with wool and equipment.
Q You managed to get grant funding. How straightforward was this process?
A We have been assisted by European funding; they funded 40% towards set up costs, which is granted money that we don't need to pay back, so that's helped us. We've also had several grants to buy machinery and expand as well.
It's quite difficult as there are load of hoops to jump through.
Q What advice would you give to other businesses hoping for grant funding?
A If you have a good plan, you have to just follow it through. The officials 'talk in tongues' and you have to try to understand what it is they want. They put things in strange terms. We were lucky as we had a consultant who was able to tell us exactly what all the terminology meant. Anyone doing it for the first time needs perseverance and good advice.
Q So what is worsted fabric and how is it made?
A Worsted spun yarns are spun from fibres that have been combed to ensure they all run in the same direction. We buy fleece from the wool board, or from farms in the case of alpacas. We then get it scoured or washed up north. We can't do that at the mill.
Then it goes through a complex process that involves carding it, combing it, blending it with different components depending on what we want the yarn to do, and dying it, before spinning it into yarn. It's noisy and challenging work, but we make wonderful soft beautiful yarn at the end of it.
Q Where to you buy your fleeces from?
A Most of our fleeces are sourced from the UK, but the Merino comes from the Falkland Islands.
We use Exmoor Blueface, which is an Exmoor crossed with a Blueface Leicester. We get a lot of zwartble off the moor, a Dutch breed, and we use the traditional hill sheep the Exmoor horn, which gives more of a harsher wool like a carpet yarn. The Blueface Leicester wool is really soft and beautiful and one of the finest British wools, with a lot of lustre. We also use alpaca fibre sourced from individual farms.
Q What's your relationship like with the local farmers?
A I know a lot of the farmers to the point where we named one of our socks after John Stanbury, our local Exmoor Blueface farmer – we named it the Stanbury Walker. He's a lovely guy and we make socks out of his wool so over pint I asked if he minded if we called it the Stanbury Walker. I think he regrets it now because, as a result, he ended up on Countryfile on TV and didn't enjoy that experience!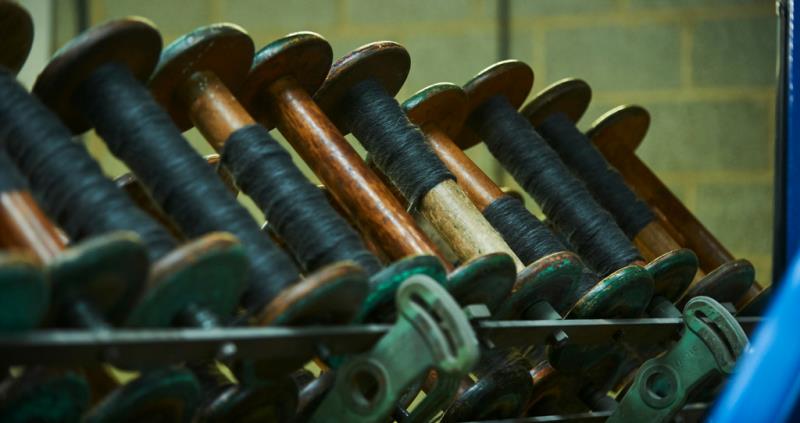 Q Do people like the fact that you use traditional methods and local wool?
A That's what we sell our products on and we sell to people that realise this and want that provenance. We're not catering for people who want to buy mass-produced for a cheap price, they want quality.
Q How can you ensure your craft is carried on for future generations?
A Once a skill has gone, it's gone forever. I'm no spring chicken and its quite a physical job and if I leave it too late I will be wanting to retire, but will have no-one to carry on the business.
So next year I'm hoping to find someone who wants to take on the business and carry it forward with me. I want to keep the business going and we have been good at having young students through who have worked with us and then moved on doing exciting things working with big companies.
The main thing is finding someone with the same ideals who wants to learn and wants to take it forward. And they need a passion for socks!
Q How do you go about designing the socks you make?
A I run two separate businesses. Fibre Harvest is the mill and John Arbon Textiles is the design and selling side. I come from a design background and so I have some design input.
Juliette Sensicle, my partner, comes from a media background and worked in the record industry so she used to design things for pop bands, so she styles all the catalogues.
We've got some great young designers who have come through the doors. Francesca Hughes is a really good up-and-coming knitwear designer and she came to us first doing a placement from Winchester University where she was studying textiles.
Then there's Daisy who has a fantastic eye for colour. We all work together to come up with ideas.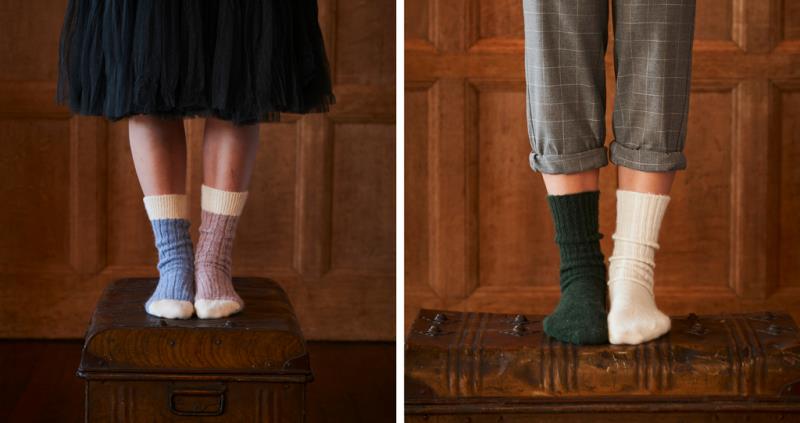 Q Where do you sell your socks?
A We do lots of fairs throughout the year. There's a resurgence in natural fibres and the craft market is massive, so there's loads of yarn fairs across the country and we take our yarn and socks to those.
There's Wonderwool, Woolfest, Yarndale, Unravel, so we travel the length and breadth of country. We'll always do shows, but it's harder to have the time to do it and we are just a small firm; four people in the mill and three or four on the design side.
Customers can buy our products online. We shied away from large retail stores as it's not cost-effective for us, so we go to small independents who are buying and selling our socks for the right reasons.
Q Are you planning to expand in the future?
A We were featured on BBC Countryfile and we took 800 orders in one evening after the show went out, so we were tempted to expand the business, and almost did.
But then it made us stop and think and realise that no, we want to keep it to a level we like. I think you need to know the limits of what you want to do and weigh the quality of life against the stress of running a bigger business. So I think we're at a size where we don't want to get any bigger. I'd rather turn business away, but that's good as it shows there's a demand out there and shows that other people could do what we are doing and doing it well. There's room in the market for it. We do commissions for people who want us to do yarns for them to sell and that market is massive.
Q So what is your favourite style of sock?
A The Stanbury Walker is close to my heart. I drive past the sheep every day to work. They're fantastic; indestructible, warm, lovely walking socks. They're made from the hardiest sheep in the country. It's a good soft wool but also durable and natural fibres are so much kinder to your feet and allow your feet to breathe.
I think most people don't give a sock a second thought and buy cheap socks in packs and you might as well go and put your foot in a plastic bag; it sweats and then you get odour, so it's not good. Natural fibres are the way forward for your feet!
For more information, visit: jarbon.com