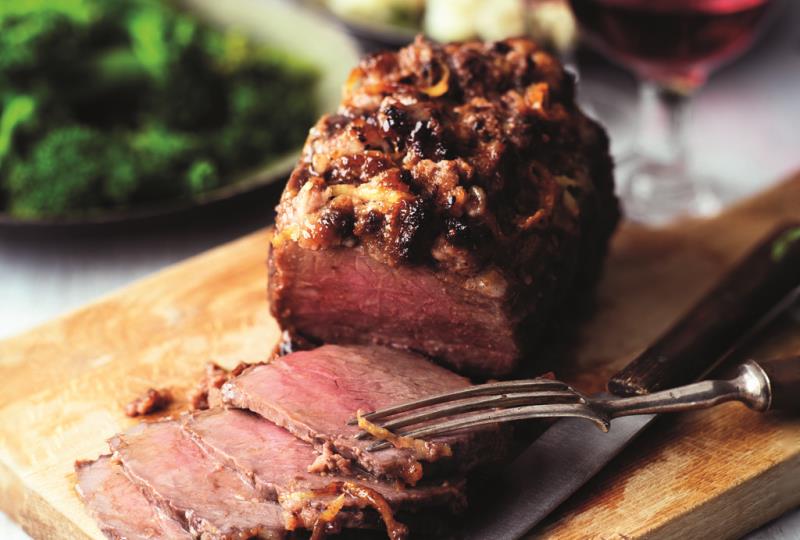 It's Great British Beef Week, and to mark the celebrations of our beef farmers and the superb food they produce, we've come up with a superb twist on the classic roast.
Taking just an hour to prepare, our topside mini-roast with horseradish proves the roast is not only for long Sunday afternoons. Why not give it a go midweek – and let us know how you get on…
Topside mini-roast with horseradish
This delicious beef mini-roast has all the flavours of the traditional beef roast – plus a horseradish twist! This midweek roast is topped with a horseradish sauce, honey and lemon mixture for a taste sensation.
Serves: 2
Time to prepare: 10 minutes
Cooking time: 50 minutes
Ingredients
1 x 400-450g beef mini roast (we used beef topside)
10ml/2tsp runny honey
10ml/2tsp prepared horseradish sauce
Zest of 1 lemon
5ml/1tsp oil
Salt and freshly milled black pepper
Method
Preheat the oven to Gas mark 5, 190°C, 375°F.
In a small bowl mix together the honey, horseradish sauce,
lemon zest and oil.
Place the joint on a chopping board, make several slashes
over the surface, season and spread with the honey and lemon mixture. Transfer to a medium nonstick roasting tin and roast for 40 to 50 minutes (for medium). Cover with foil if browning too quickly.
Remove the joint from the oven, cover and leave to rest for 5 to 10 minutes, 20 minutes if time allows.
Serve with crushed new potatoes and sprouting broccoli.
More information
Great British Beef Week runs from 23 April to 1 May and features events across the country To find out more, visit: ladiesinbeef.org.uk