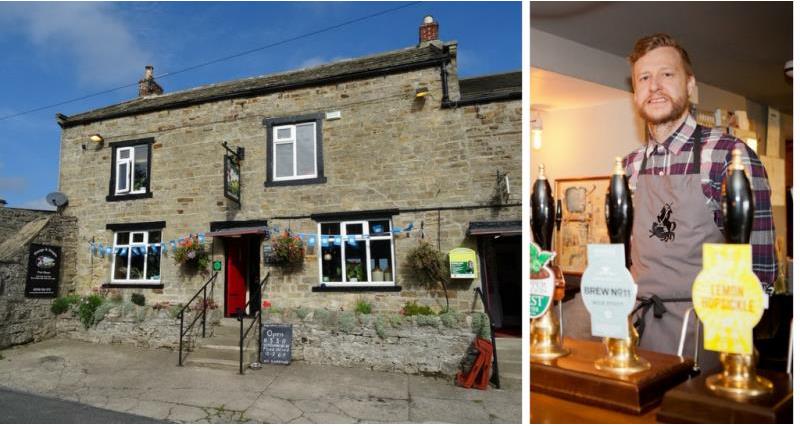 A small village pub which was saved from closure by the local community has won CAMRA's National Pub of the Year award.
When the George & Dragon pub in Hudswell closed in 2008, it left the small North Yorkshire village with no other facilities for its residents apart from a village hall. Within two years, the community banded together to form the Hudswell Community Pub Ltd group and bought back the pub, re-opening in June 2010 after extensive renovations.
The community was determined that the George & Dragon would offer far more than a traditional pub. As well as acting as a meeting place and venue, it's also home to the village library, a local shop staffed by volunteers, community allotments and free internet access for its patrons.
CAMRA was particularly impressed with the pub's warm and welcoming atmosphere and strong community ethos. The homely multi-roomed country inn has a large beer terrace offering fantastic panoramic views over the Swale Valley just a few miles from the market town of Richmond. In addition, the current landlord has shown a great passion for quality beer, greatly extending the range of real ales and cider available.
Paul Ainsworth, CAMRA's Pub of the Year Finalist Coordinator says: "The George & Dragon is a great example of how a pub has been resurrected as a true community asset. To go from closed doors to winning national Pub of the Year in just a few short years is a fantastic achievement for any pub – and all the more impressive for one that is cooperatively owned."
Stu Miller, Landlord of the George & Dragon adds: "We're truly thrilled to have been recognised by CAMRA with this award; it shows that hard work, good beer and the support of the community can help you achieve goals that seemed impossible only a short while ago.
"We're a small Yorkshire Dales pub, owned by the community and run by me and my family; I'm extremely proud of what our little pub has achieved."
Support and finding for the pub has come from the Plunkett Foundation, and general manager James Alcock says: "Community-owned pubs such as The George & Dragon are an exceptional example of how a community can succeed in running an enterprise. Within a short space of time, a community has rallied together in order to save a vital village resource and have now been rewarded for all their hard work. Let this award be a credit to all who are involved with the project and we wish all at The George & Dragon success for the future."
:: Runners-up in the competition were the Salutation Inn in Ham, Gloucestershire, the Stanford Arms in Lowestoft, Norfolk and the Swan with Two Necks in Pendleton, Lancashire.