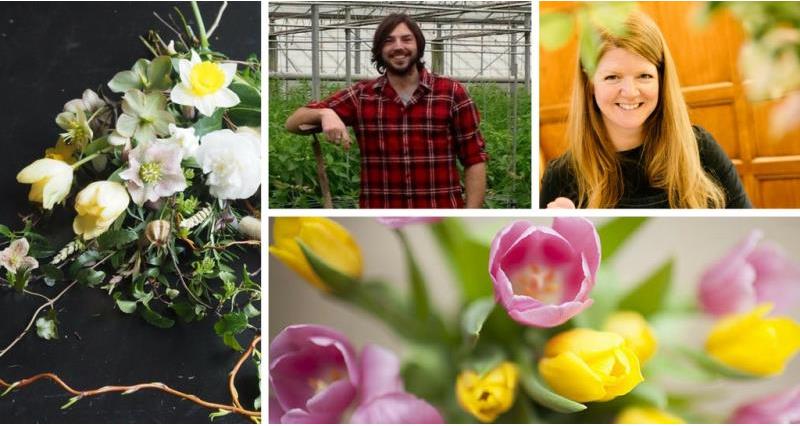 With spring just around the corner, it's a great time to remind us all that the Britain has a growing cut flower industry. Whether it's red roses to symbolise love, daffodils at Easter, or white lilies to commemorate a loved one, flowers are a regular accompaniment to our everyday lives. But very few of us worry too much about where they come from – other than that they're from the local florist or supermarket.
But at Countryside magazine we believe shoppers should back our growers and buy British flowers whenever they can. Not only will they be getting great quality, long-lasting flowers, they'll also be helping to boost the British rural economy.
"Buying British doesn't mean paying more for your flowers," says Ben Cross, of Crossland Flower Nursery, in Walberton, on the edge of the South Downs National Park. "We might charge only £2.50 for a bunch of British-grown alstroemeria, whereas some supermarkets may charge £3 to £4 for flowers from South America or the Far East. Buying British doesn't have to be more expensive and it means the flowers are fresher and, therefore last longer."
Ben says British growers are at risk of going under if they're not supported by shoppers, the big retailers and government. In the face of foreign imports, the home-grown industry is in "dire straits", he says.
"We used to sell 500,000 flowers each year to the big supermarkets but that has reduced to 100,000," adds Ben, who runs the family business – three acres of glasshouses – alongside his father Dave. "We used to send hundreds of English flower boxes to the big wholesale markets – Covent Garden, Western International and Spitalfields – but I'm lucky now if I send a total of ten.
"I'm throwing away tens of thousands of flowers every year because we can't sell them. The local community supports us well but, if things don't improve, I'm not sure if it's sustainable. So many growers have already gone under."
One florist who's proudly backing British is Ali Billenness, from London florist Bloomologie.
"I began to notice that what I could get in the florists and supermarket bore no relation to what I had in my own garden," says Ali. "And that drove me to want to fill the gap in the market for seasonal flowers, British flowers and natural garden flowers – rather than perfect-looking all-year-round blooms, that are the same week in, week out. So that's where Bloomologie began."
Ali's business has been going for 18 months, with events, weddings and bouquets-to-order forming the mainstay of her work. "Part of my USP is that I use seasonal flowers and British wherever possible. All my foliage is British. In the growing season all my flowers are British too. Right now, in late winter, 50% of my flowers are British, but I'm hoping to get that to an even higher level than it is."
"Sourcing British is a challenge, but it's getting easier, and there's some amazing people out there," she continues. "In Cornwall there's a company called Flowers by Clowance – and he's similar to a wholesaler who pulls in flowers from other local growers. This means you can buy a mixed box of flowers from them, of narcissi from the Scilly Isles for example, irises and alstromeira too.
"I also use a fantastic wholesaler called Blooming British who work with growers in Sussex, Hampshire and Surrey. There's a lovely website called Flowers from the Farm – and they're just brilliant. Last year I had a wedding in Suffolk and
I looked on their website and found a flower grower in Suffolk and decorated this barn with flowers from the county. A lot of those smaller growers will sell flowers by the bucket to the public – and sometimes you can pick your own too."
Going Dutch?
An NFU report – Backing British Blooms: the state of the British cut flower industry – published last June – reported that the value of British cut flowers had stayed roughly the same, rising from around £79m in 1988 to £82m in 2015. But the value of cut flower imports rose from £122m to £666m over the same period. Import substitution has long since been the ambition for British growers, but the highly subsidised Dutch imports and logistical prowess of exporters from markets in the Netherlands have made competing on price difficult, the report states.
With approximately 90% of flowers sold in the UK being imported, Ben would love to see the buy British trend extended to flowers. This trend, championing home-grown products such as beef, lamb, pork and poultry, as well as eggs, fruit and veg and even dairy, has proved successful and is ongoing at the highest level.
"It's all very well flower wholesalers and retailers saying they 'back British' growers but then they stock their shelves with foreign imports," continues Ben. "The public should be given an informed choice," he adds. "Flowers are sold all year round, not just on Valentine's Day, Mothers' Day, Christmas and Easter. It would be great to have someone to champion the flower industry. Just look at what Jamie Oliver has done for British food producers!"
And there are some encouraging signs that British flowers are on the up. Ali explains: "New Covent Garden market has British flowers week in June and it seems to grow exponentially each year – and last year, as part of that, I did a pop-up stall in Blackheath selling British flowers. I was a little bit worried that people in a well-off part of London wouldn't like them. But actually everyone loved the field scabious and sweet peas – they all thought it was just beautiful."
So, with Ali's words ringing in our ears – next time you buy flowers for a loved one, make sure they're British!

More information