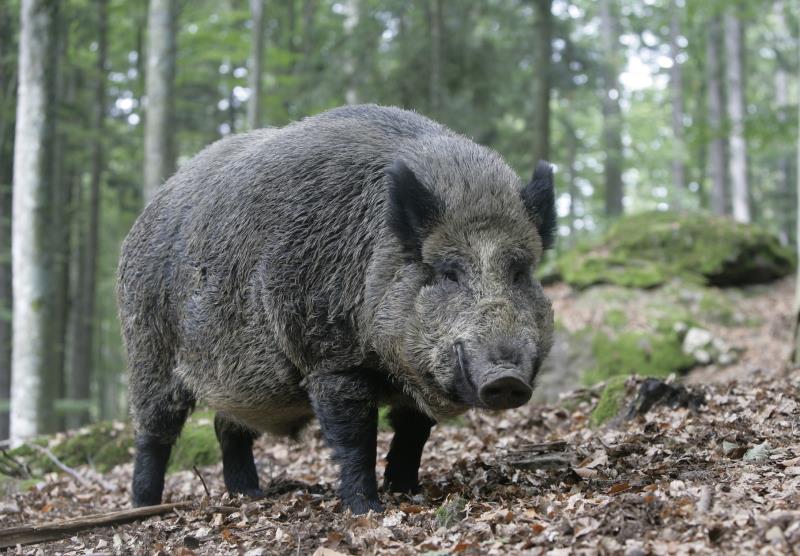 People living in the Gloucestershire countryside are becoming increasingly frustrated by damage caused by the growing wild boar population.
The animals are a common sight across the Forest of Dean but have begun to stray into populated areas, damaging property as they search for food. That's led to a recent meeting of village residents, councillors, ecologists and landowners to look at ways of living alongside the 1,500 boars estimated to now be living in the forest despite a culling programme.
Sean Cahill is a biologist working at the Collserola National Park near Barcelona, where similar problems exist. He told the meeting about the efforts of local and regional governments there to help manage the species by providing fencing and boar-proof bins – and making feeding them illegal. He told the BBC: "They see clearly that it's necessary to have this measure. Often the fines are not given out but it's a way to say that no, what you are doing is wrong and it's only going to cause problems."
Speaking this week, NFU environment expert Claire Robinson said: "It's important wild boar populations are managed because of the considerable damage they cause in rural communities and for farmers. These are wild animals and we shouldn't be feeding them and exacerbating the problems."


Matthew Price, a group secretary of the NFU in Ledbury and Ross-on-Wye, is also concerned by the animals, which he said had caused considerable crop damage in the past. "My main concern is public safety," he said. "A sow with piglets is extremely dangerous. They are impressively large creatures, very fast and aggressive."
Highways England is monitoring a series of boar-related traffic accidents, counting 230 between 2011 and 2014 including a fatal incident. Farmers have also expressed serious concerns about the possibility of disease from the feral animals spreading to their businesses.
A growing problem...