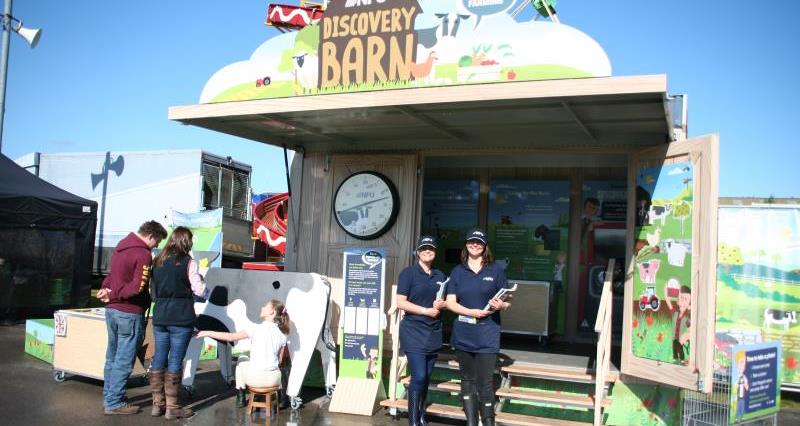 After more than 15 years on the road teaching children about food and farming, the NFU's much-loved Let's Talk Farming roadshow is set to inspire thousands more after enjoying a complete overhaul for 2017.
Designed with experts in educational attractions, self-learning is at the heart of the format, combining games and fascinating facts for primary school children and their families under a new identity – the Discovery Barn.
Friendly farming duo Ben and Ellie invite four-to-nine-year-olds to explore a series of fun activities, which together create a truly memorable learning experience. The new line-up includes: the Minute Milk Challenge featuring Annabelle the dairy cow (see picture, bottom right) the Farming Year Magnetic Maze, a Farm Tour Tractor Experience, a Farming Flip-Board Quiz and, for larger shows, a Farming Champion Bean Bag Throw!
At the Discovery Barn's first outing this year, visitors to the Norfolk Agricultural Society's Spring Fling were very positive about the experience. One parent, Jerry Perkins, said: "The Discovery Barn is great and so approachable. Everyone wanted to get involved with it and wanted a chance to try the combine steering activity. My son Freddy loved it."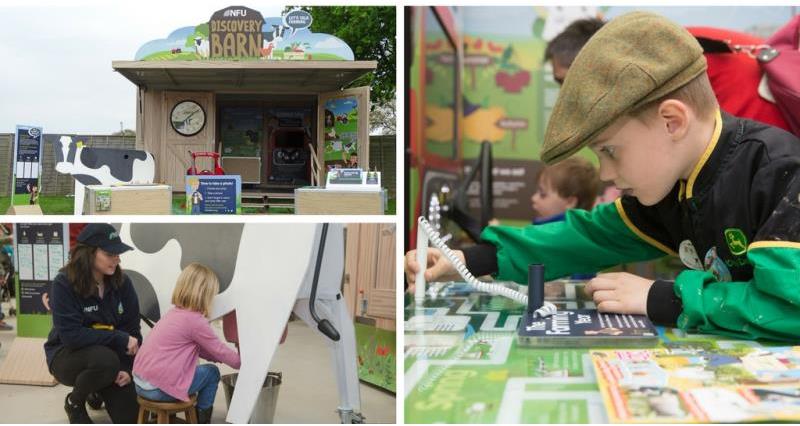 Another happy family were Charlotte Hornby and her daughter, Lucy. Charlotte said: "My daughter was very engaged with the tractor driving and magnetic maze. She also had a great time milking Annabelle the cow."
Ruby Burrage's father said: "It's really interactive, that's what the kids want. We had a really good time."
The friendly Discovery Barn characters make the barn visually appealing for children, and communicate to adults that this is a space built for kids.
All of the written content has been developed with advice from a consultant with more than 30 years of experience as a children's editor at Dorling Kindersley and all of the games have been designed with support from education experts from the Science Museum and ZSL London Zoo. They're packed with educational content, but are fun and tactile, which aids learning and memory.
The Discovery Barn children's roadshow travels the country from spring to autumn, attending school events, county shows, food festivals and more.
We'd love to hear your views, so if you visit the Discovery Barn, send us your pictures via Instagram: @nfucountryside
Show business
Here's where you can see the Discovery Barn for yourself this June:
31 May-3 June Royal Bath & West Show
7 June – Essex Schools Day
10-11 June – Open Farm Sunday & Vintage Weekend
16-18 June – Three Counties Show
20-21 June – Royal Cheshire Show
24-25 June – Shrewsbury Food Festival
28-29 June – Royal Norfolk Show
30 June – Kids Country (East Midlands)