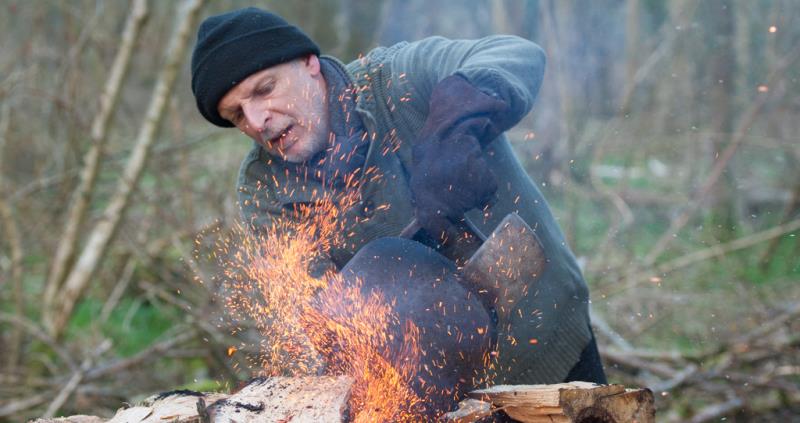 Wanting a better life in the country, Jim Bettle established The Dorset Charcoal Company and has never looked back.
Q First off Jim, what's your background?
A I went to a polytechnic in London, but by the time I got my degree I knew
I wanted to live in the country and work with my hands. It took a long time for me to work out what I wanted to do though!
I tried several rural-based trades, including working as a thatcher's apprentice. The thatcher once mentioned in passing that there was a good future in charcoal, and that really stuck in my mind.
Q Is that what led you to set up The Dorset Charcoal Company?
A It was one factor. Also, I worked in golf course construction for a while and saw a lot of wood being bulldozed during site clearance, and I didn't like the waste. Then I heard a local forester was looking for a charcoal burner, so it all sort of came together, really. I travelled around the country to train, then I founded The Dorset Charcoal Company in 1996.
Q So why did you choose charcoal?
A As a country, we import more than 90% of our charcoal from abroad. Much of it comes from unsustainable sources, even rainforests, not to mention the carbon footprint involved in shipping it here. Cutting firewood from small woodlands can help rekindle traditional woodland management, and bringing coppice woodlands back into rotations encourages a greater diversity of flora and fauna. I really relish the idea that I'm doing something environmentally positive.
I suppose I'm a bit of an old hippy, really!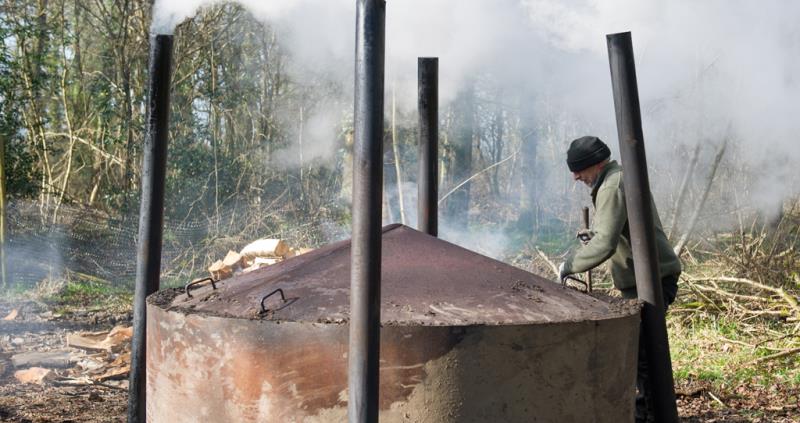 Q How's business at the moment?
A It's constantly refreshing, and that's just the way I like it. I'm always finding new uses for the product – we even sell to the cosmetics industry. We sell to special effects companies – our charcoal will be featuring in Game of Thrones too (no spoilers, but something must be on fire!). We also sell charcoal as an animal feed supplement. I'm really proud of the amount we produce – it was more than 40 tonnes last year.
Q What do you see as the future for your business?
A Animal feed is the big news going forward. Charcoal is a natural, inert product so it's safe and organic. It's beneficial to any animal: it aids digestion and absorbs intestinal gases, and it helps to remove toxins. It's particularly helpful for horses as they're one of the few animals that can't vomit, so once ingested, any potentially hazardous substance has to pass through the whole digestive system. Charcoal absorbs any toxins and then passes them through the animal naturally.
Q What would you say is the secret of your success?
A Flexibility, innovation and hard work. My business would never have lasted if I hadn't diversified. I wanted to find many uses for the product, and a use for every size of it. It's a challenge to find the next market.
Q What do you feel is your key point of difference?
A We have two, but they're closely linked: provenance and quality. We can verify exactly where our charcoal comes from and it's all from sustainable forests. British charcoal has a higher carbon content, so it's easier to light, becomes hotter more quickly and is, therefore, better to cook with.
And it's a British brand, at a time when we should all be looking to source what we need more locally.
Q What do you love about living and working in the countryside?
A I love being outdoors, and working with kilns is very peaceful. And I enjoy creating something with my hands. There's a pride in producing something from the land. I like the sense of community too – for example, I just picked up two dozen bottles of cider from a producer in exchange for supplying her with firewood!
Find out more: dorsetcharcoal.co.uk
About Jim
I went to Mongolia this year to teach charcoal-making to the people for local markets – I could hear wolves howling as I was teaching!
I play cricket for the village and I'm very proud that, after 12 years of fundraising, we finally have new changing rooms!
I met my partner in a local pub, but as she was teaching in Delhi, I had to go all the way to India to win her heart.