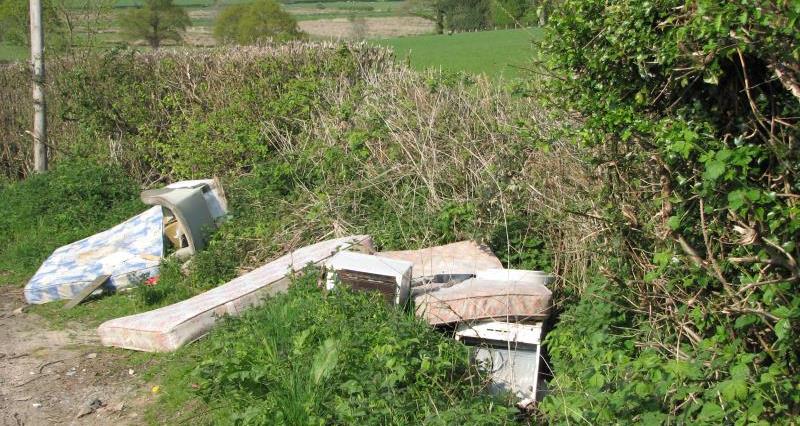 Fly-tipping is a serious problem and impacts our beautiful landscapes dramatically.
We need your to be the eyes and ears of our countryside, reporting cases and increasing the chances of catching the perpetrators.

Fly-tipping continues to be a major problem for farmers across the country, and in England alone there were over 936,000 incidents in 2015/2016. It's estimated that around two-thirds of farmers have been affected, with items routinely dumped including old fridges, chairs, mattresses, tyres and contaminated waste.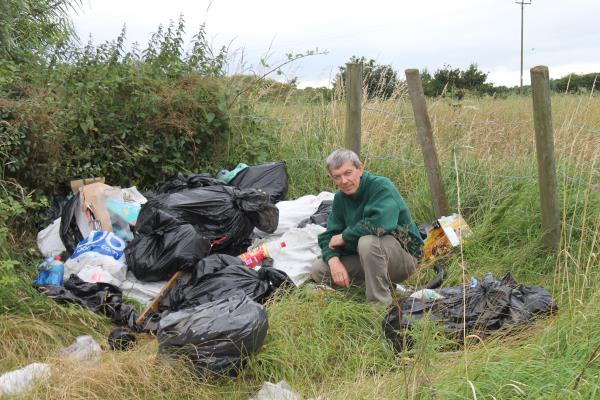 The NFU is lobbying government to establish targets for local authorities and for the Environment Agency to support and enable farmers' and landowners' efforts to deter, remove and clear fly-tipped waste from private land at no cost.
While work to achieve this is still on-going, a new fixed penalty was introduced in 2016 as an additional tool to penalise anyone caught fly-tipping. This is definitely a step in the right direction.

What can you do to help fight fly-tipping?
Download our poster and display it on your community notice board, local shop or pub.
Be vigilant. If you discover large-scale fly-tipping or hazardous fly-tipped waste contact the Environment Agency on 0800 80 70 60.
Report cases of fly-tipping to your local authority. The quicker cases are reported, the more chance there is of catching the culprits.
Don't forget, fly-tipping is an illegal activity and should be reported to the police (non-emergency number 101).

Farmer?
The NFU is calling on its members to report incidents on private land so a case can be made to government for action. If you want to report an incident on your land, contact NFU CallFirst on 0370 8458458 or fill in the online survey now.
The NFU is a member of the National Fly tipping prevention group. This website provides further information on best practices to prevent fly-tipping, and what to do if you witness or become a victim of fly-tipping.

The toll of the tippers - farmers' stories

Image taken by the Environment Agency of the devastating impact of illegally deposited baled waste in Lancashire

Over the past two months there has been an increase in the illegal deposit of baled waste at farms in the North West - especially in Cumbria and Lancashire.
We need your help to stop the people who are approaching landowners including farmers to store waste bales. Not only is it illegal, the bales can cause risks to the environment such as waste fires, fly infestations and vast littering often caused by poorly wrapped bales that split. There is also a strong suspicions that the bales will never be collected leaving the landowners with an expensive clearance bill.
Farmers have been informed about these requests and have been urged to refuse and contact the Environment Agency to seek further advice.
How can you help?
If you notice bales placed in unusual locations or any other suspicious activity, please contact the Environment Agency via their 24 hour incident hotline 0800 807060.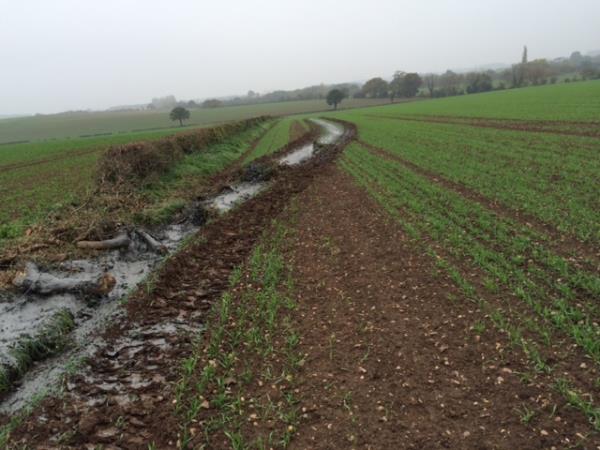 Liquid concrete-type mix dumped on a winter barley field in Warwickshire
A Warwickshire farm is counting the cost of illegal fly-tipping after hedges were demolished and a 'liquid concrete-type' mix was dumped on a field of winter barley.
Fred Heath and his son, Anthony, who farm at Stratford-upon-Avon, discovered the fly-tipping a few weeks ago; they are currently having the liquid compound analysed to see if it poses any danger to their crops or the environment.
The farming family noticed mud on the road and when they investigated found someone had accessed the field with a tractor or other heavy duty vehicle, driven through a hedgerow and tipped a trailer or tanker of the compound across the site.
The substance appears to be similar to a liquid concrete or floor sealant mix and the family are paying for tests to establish exactly what it is.
Anthony Heath said: "It happened at the start of November on a Sunday night and we didn't know anything about it until the day after when mum went out and mentioned there was mud on the road.
"We thought it might have been caused by people hare coursing or something similar, but when I got to the field I discovered the tyre tracks and this liquid concrete-type mix all over the place.
"Whoever has fly-tipped this has taken out at least 20 yards of hedge and they must have been driving around in deep fog, possibly without any lights."
Fly-tipping is costing the country millions of pounds a year but the figures do not account for huge piles of rubbish dumped on land belonging to farmers and other private landowners.
Mr Heath whose family arable and sheep farm is on the main Banbury Road, into Stratford, said the incident had been reported to the proper authorities, including the Environment Agency.
Anthony said: "The barley is growing through it but we'll have to wait for the test results before we take any further action, alongside the inconvenience there will be clear up costs.
"This is the first case of fly-tipping we have had here and the real issue is that we just don't know what this stuff is and what sort of risk it could pose.
"We're doing all we can but I would urge everyone to report fly-tipping cases to build up a picture of the problem."

More stories from farmers targeted by tippers