LIST OF COUNCILS | WHAT ARE THE RISKS? | HOW CAN YOU HELP? | TRUE STORIES FROM FARMERS | WHAT DO YOU THINK?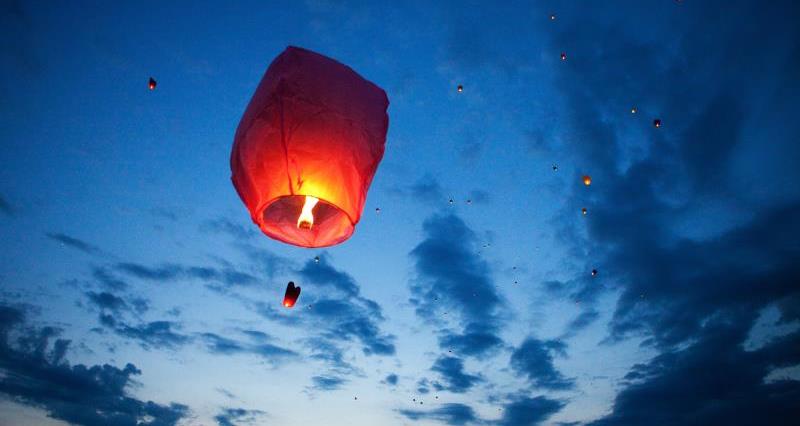 Sky lanterns are usually used in Britain to mark special celebrations such as weddings, parties and New Year. However, are you aware of the dangers they can cause?
Essentially a small hot air balloon made of paper, with an opening at the bottom where a candle is suspended, sky lanterns can float for miles before they fall to the ground, causing a danger to animals and a fire hazard. Not just litter, but burning litter – it's time to ground sky lanterns for good.
The NFU welcomed the introduction of a sky lanterns code of practice in 2014, and we continue to call for an outright ban. The following list highlights the councils who have recognised the dangers of sky lanterns, and introduced a ban.
If your council isn't on this list, you can join our campaign by:
Remember to drop us an email Y2FtcGFpZ25zQG5mdS5vcmcudWs= to let us know who you've written to.
What are the risks?
Litter nuisance
Farmers and other landowners have to clear up the remnants of sky lanterns from their fields. Don't be fooled by bamboo lanterns marked 'biodegradable' – they can still take decades to degrade.
Fire
Once a sky lantern is lit, nobody knows exactly where it will land. Fields of standing crops, hay and straw stacks, farm buildings housing animals, thatched roofs plus lots more are all at a significant risk of being set alight.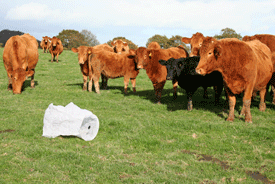 Animals and Livestock
Sky lanterns can cause suffering or even kill animals and livestock. Not just by fire, sky lantern debris can cause immense stress and injury. Some of the key dangers are:
Animals eating lantern debris which can cause tears or punctures to internal organs leading to a potentially life-threatening situation
Animals getting splinters in their skin which may cause infection
Animals becoming trapped or tangled in debris
Frames of lanterns can contaminate crops which are then unknowingly fed to animals
False alarms
Sky lanterns pose a significant danger to aviation traffic such as planes and helicopters. There are concerns that lanterns can be drawn into aircraft engines and can delay take-off and landing. In addition, lanterns drifting across a night sky are also commonly mistaken by the public and coast guards for marine distress signals.
How else can you help?
Help us campaign to ban sky lanterns by:
Speaking and writing to local event venues asking them to introduce voluntary bans in their premises and get behind the campaign.
Spreading the message to friends and family
Downloading our NEW sky lantern fact sheet and displaying it on your local communicaty noticeboard, at your GP surgery or in your vetrinary practice

True stories from farmers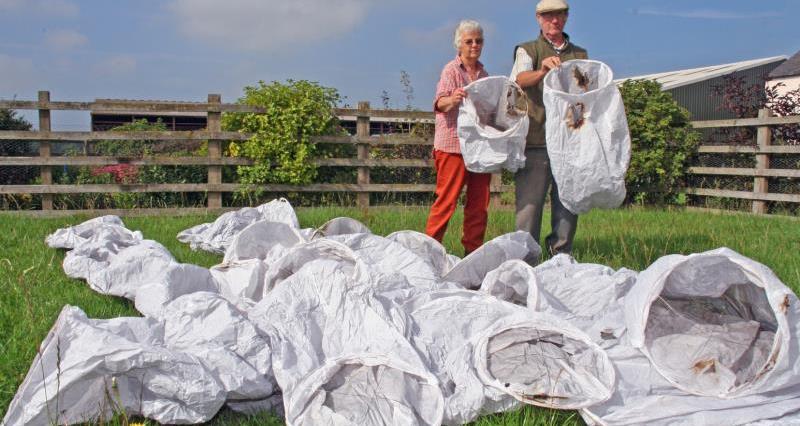 Beef and arable farming couple Tony and Sue, from Coolham, West Sussex, experienced a mass landing of 28 sky lanterns on their farm. Read more.
Hugh Lowe is a former NFU Kent county chairman who has retired and now lives in Dorset. In 1949 when Hugh started work as a farm-pupil they lost some livestock from ingesting pieces of wire from the V1 Flying Bombs. Read more.

What do you think?
Have you experienced any incidents of sky lanterns causing harm?
Do you have any suggestions of other ways to mark a celebration instead of using sky lanterns? We want to hear from you, email Y2FtcGFpZ25zQG5mdS5vcmcudWs=.