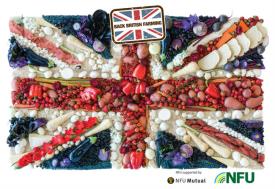 Our stunning new food flag is an out-and-out celebration of all of the beautiful produce that British farmers and growers deliver during harvest each and every year.

Did you know that British strawberries are grown and available from March to December, or that one hectare of British wheat will produce enough grain to make about 11,500 loaves of bread?

From the deep rich tones of gladioli to the bright scarlets of juicy red tomatoes, there is a story behind each farming sector in our flag – and with our sights set on highlighting the heroes of our harvest, we've put together this special interactive version for you to explore.

Find out about the pro responsible for our British beef or the expert farmer behind our eggs, simply by moving your mouse over the food flag and clicking to find out more.
Download a printable version of our Great British Food Flag here.
Using your mobile? Read our farmers' stories here.

Are you using your mobile? Read all of our farmers stories below...
Kit Papworth, sugar beet grower
David and Jo Clarke, dairy farmer