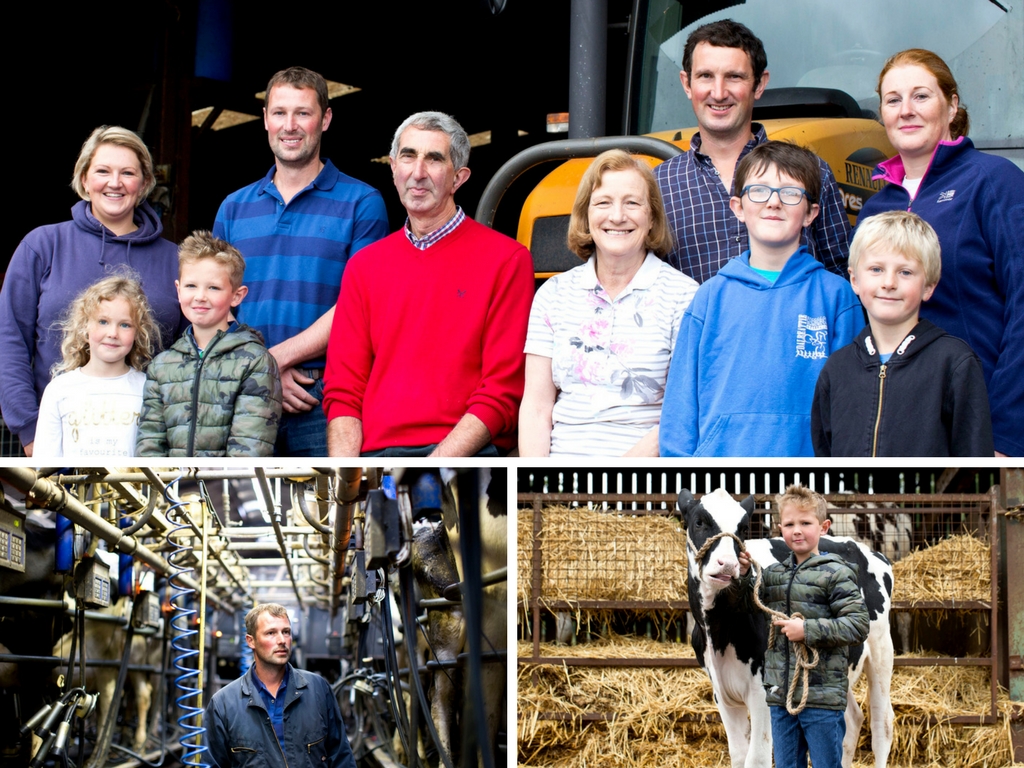 The new series of the Bafta-winning BBC documentary follows personal stories over the course of a year at farms across Scotland. Why not watch live and share your thoughts with us on Twitter?
The first episode broadcast on Wednesday 6 September was an immediate hit with audiences, and the series continues on BBC Two, at 7pm Wednesday to Friday evenings for the next four weeks. We'll be watching - follow @NFUCountryside on Twitter and let us know what you think.
The programme provides an inside view of the realities of farming life today. Families followed this time round include season one favourites Melissa and Martin Irvine from Moray, who welcomed baby Erin during the course of filming the second series, and plenty of new faces.
The Irvines
The Irvines look after 80 breeding Limousins and 280 mule ewes on a 97 hectare rented estate at Drummuir, near Keith, Moray, where they also look after 600 ewes for the laird. Melissa and Martin's wedding was featured in the finale of the first series of This Farming Life.
The Roans
Brothers Steven and Stuart Roan are sixth-generation farmers in coastal Dumfries and Galloway. They have a herd of pedigree free range Holstein dairy cows, across neighbouring holdings. Stuart and his wife Aylett have invested in modern technology and use robots to milk their half of the herd; next door Steven and his wife Tracey use a traditional milking parlour. The series shows the Roans doing everything they can to stay afloat in a period of low milk prices, from setting up milkshake stands to running a doorstep delivery service.
The Taylors
New-entrant farmers on the Isle of Mull, Janet and Alastair Taylor rent a small farm where they keep 140 sheep, 20 Highland cattle, ducks, a goose and nine dogs. They started their farm from scratch five years ago and the programme shows them juggling the benefits of cash incomes from paid contract work on other farms against the need to spend time building their own farm into a profitable enterprise.
The Coltharts
In Appin Hill, Sandra and David Colthart keep 540 Blackface sheep and 45 cross breed cattle that for much of the year roam freely over 3,237 acres of stunning Scottish hillside. This very traditional method of farming poorer land sees their animals spread over such a large area that even a basic sheep dosing requires spending up to six hours gathering the sheep off the hills. Luckily Sandra breeds pedigree Border Collies so there's always a dog or three to help out.
The Calverts
Robin and Penny Calvert's croft in the Highlands provides most of their food and fuel needs as well as supplying a bespoke hand butchery business. They took on a run-down property 25 years ago and have turned it into the fully functioning croft it is today, but at 60 and 61 respectively, old age and illness loom and their future is uncertain.
Stevie Mitchell
In Fife, maverick farmer Stevie Mitchell is looking to increase his herd of 400 buffalo and promote his alternative to regular beef. But dealing with unpredictable Asian water buffalo can be a hair-raising business.