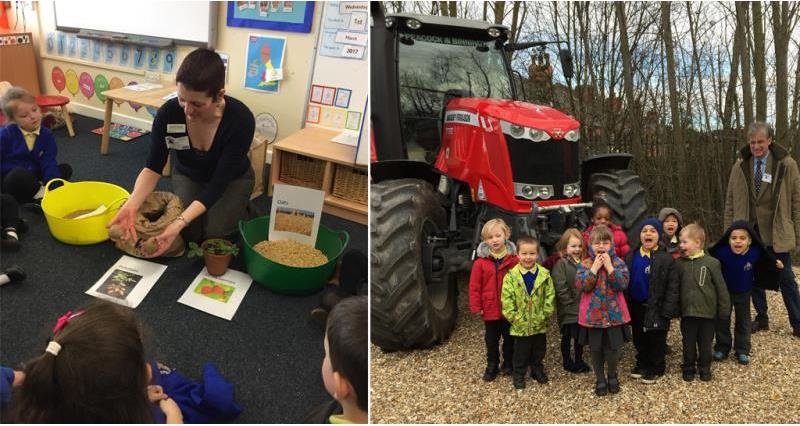 The second Tractors Into Schools campaign, jointly organised by the NFU and the Lincolnshire Agricultural Society, brought tractors to over 40 schools between 27 February and 3 March.
Speaking about the campaign, Steve Ward, chairman of the agricultural society's education committee, said: "For many children, seeing a tractor 'up close and personal' is a new experience; though some may have seen a tractor in a field or perhaps at the Lincolnshire Show, not many children will have been able to sit in one and find out how tractors help us produce the food we eat every day.
"Lincolnshire's food and farming industry is worth about £1.6 billion to the county's economy and we employ tens of thousands of people to produce the fantastic variety of food we grow on our farms. But that food arrives packaged, clean and sometimes cooked at home ready to eat, so many children don't see or understand the processes it takes to get our food from field to fork."

All over Lincolnshire, farmers and tractor dealers made plans for Tractors Into Schools week. Lessons and activities were organised to show off farming's modern work-horses and how they help farmers on their farms; ploughing, sowing, cultivating, harvesting and hauling the grain, vegetables, potatoes, livestock feed and energy crops that we produce in Lincolnshire.
The NFU and the Lincolnshire Agricultural Society have also worked with Farming and Countryside Education (FACE) to provide activities for farmers to use in all areas of the curriculum, for all ages of primary school pupils. From maths, English, science, geography, food technology, design and art, food and farming can be used to help children in hands-on learning activities, bringing their subjects to life in a fun, but safe way.
:: If you are interested in finding out more about FACE's work, visit www.face-online.org.uk