Why not set yourself a challenge this Christmas and try not to throw anything away! Here are Miranda Gore Brown's top ten ways to use up leftovers:
Stir mincemeat into shortbread before baking
Sprinkle nuts, cranberries and brown sugar on top of your cake mixture before baking
Make bubble and squeak with any leftover vegetables
Make turkey and ham pie (see recipe on page 93).
Caramelise nuts by putting them in a hot frying pan and stirring through 1 tablespoon of butter and
1 tablespoon of soft brown sugar, bubble then tip onto baking tray and cool. These keep well in a sealed jar and are delicious on ice cream or thick yogurt.
Use up clementines, cranberries and fruit and vegetables (kale, beetroots, carrots, broccoli) from your Christmas fruit and vegetable supplies to whizz up healthy smoothies.
Stir leftover Christmas pudding into vanilla ice cream and freeze to make a delicious pudding.
Make soup.
Melt chocolate and double cream to make chocolate ganache, use a small ice cream scoop to spoon the set ganache into balls, refrigerate or freeze and you will have delicious homemade chocolate truffles.
Boil up the turkey bones with onions, carrots and water to make stock. Freeze and use for risottos and soups.
Turkey, leek and ham pie with sour cream pastry
Miranda Gore Browne's recipe for turkey, leek and ham pie with sour cream pastry is a great way to use up Christmas leftovers.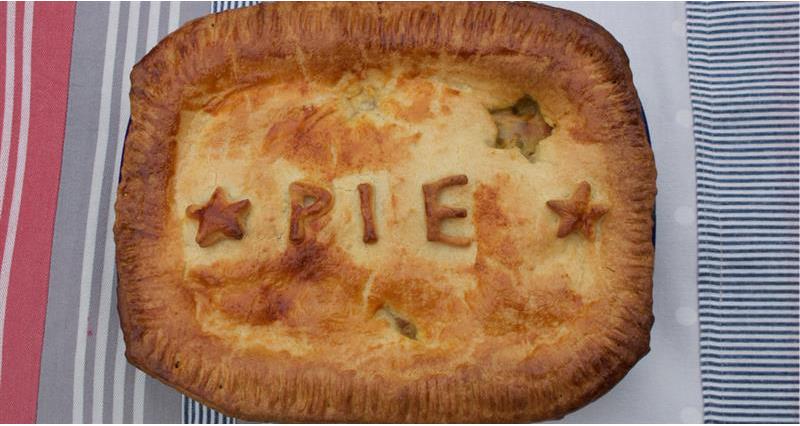 Miranda Gore Browne shares her favourite ways to use up Christmas lunch leftovers. She says:
"There really is nothing lovelier than a pie at the centre of your table. This pastry is simple to make, light and flaky, but if you are pushed for time, just use ready-made puff pastry, I have it on good authority that even Mary Berry and Nigella do! We are all allowed to make shortcuts sometimes, particularly after Christmas."

Baking time: 25 minutes
Ingredients
Sour cream pastry:
(This is twice the amount you will need for the pie, freeze the rest for another time)
500g plain flour
Pinch of salt
300g unsalted butter
250ml full fat sour cream
For the filling:
1 tablespoon of olive oil
2 leeks (300g) washed and finely sliced
2 tablespoons of butter
Salt and black pepper
Fresh or dried thyme leaves – a few sprigs
300g roast turkey, shredded into pieces.
150g roast ham,
cut into chunks
3 tablespoons of plain flour
300ml of turkey stock, (or you could use some leftover gravy with some boiling water added or 2 chicken stock cubes with 300ml boiling water)
2 tablespoons of brandy or cognac
1 egg (for egg wash)
Method
Chop the cold butter into cubes and leave to soften for about five minutes.
Whizz or whisk together the flour and salt, use your hands (or the food processor) to rub in the butter until it looks like fine breadcrumbs. Add the sour cream and whizz again or mix with a knife until it comes together as a dough.
Press into two flat discs, wrap tightly in cling film and chill for at least an hour.
Put the leeks into a deep-sided frying pan or casserole dish with 1 tablespoon of olive oil, cook until soft. Add a tablespoon of water if they start to go dry.
Add a tablespoon of butter to the pan and stir until melted.
Toss the flour over the turkey and ham, then add to the pan with the buttery leeks.
Stir and after a few minutes add the hot stock (or gravy) and brandy and let it bubble for about five minutes until it is glossy and has thickened.
Preheat the oven to 220ºC/gas mark 7 and put a flat-sided baking tray ready to stand your pie dish on.
Take the pastry out of the fridge and dust with a little flour, I find it easiest to roll it out between two pieces of non-stick baking paper. Roll until about 0.5cm thick. Use a biscuit cutter or bottle lid to cut a few shaped holes in the pastry.
Tip all the filling ingredients into your pie dish.
Brush the top edge of your pie dish with egg and then lay your pastry on top, trim but leave 2cm extra to allow for shrinkage
Use a fork to press around the edges.
Brush the top with egg wash and put into the preheated oven to bake for about 25 minutes or until golden and crisp on top.