Sprouts aren't just for Christmas, you know, and they're more versatile than you might realised. Thanks to the Brassica Growers Association, we have three interesting and tasty recipes for you to try at home.
Jump to: Potato and Brussels Sprout Crush | Sprout Kebabs | Brussels Sprout and Potato Croquettes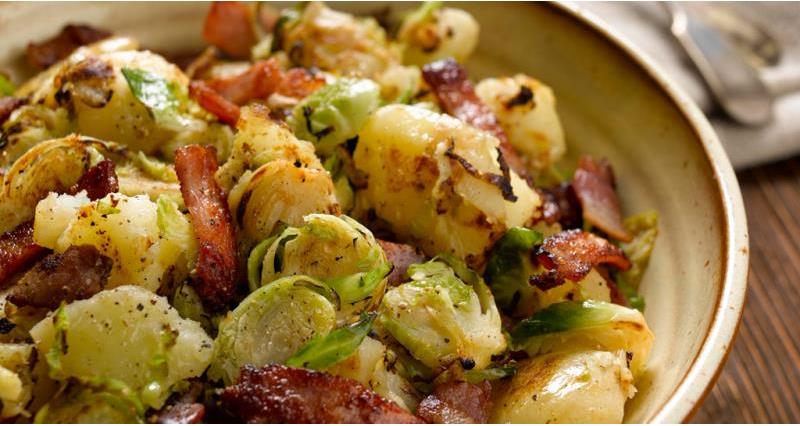 Potato and Brussels Sprout Crush
Serves: 4
Preparation time: 5 minutes
Cooking time: 15 minutes
Ingredients:
650g potatoes, chopped into quarters
6 rashers back bacon, finely diced
250g of Brussels sprouts, shredded
Oil for frying
Ground black pepper
Method
Place the potatoes in a large pan of water and bring to the boil, then simmer for 8-10 minutes or until tender.
Fry the bacon in a frying pan with a dash of oil till crisp, then remove with a slotted spoon and set aside. Next, tip the shredded sprouts into the same pan and stir until wilted and tender.
Once the potatoes are done, drain them and roughly crush them with a potato masher or fork. Tip the bacon and potato into the frying pan with the sprouts, over a low heat, season with black pepper and stir to combine, making sure you incorporate any meaty bits from the bottom of the pan.

Sprout Kebabs
Serves: 6
Preparation time: 20 minutes
Cooking time: 25 minutes
Ingredients
300g of Brussels sprouts, trimmed and washed
1 tbsp maple syrup
6 slices of Parma ham
100g Parmesan cheese grated
200g panko bread crumbs
1 lemon, zested
1 egg
30g plain flour
Salt and pepper, to taste
1 tsp olive oil for cooking
Cocktail sticks
Method
In a roasting pan, drizzle the sprouts with the maple syrup, olive oil and salt and pepper, then roast for 15 minutes at 160oC.
When cooked, let them cool down, then wrap the sprouts with Parma ham and put them onto the cocktail sticks.
Whisk the egg, then dust the sprouts in the flour and dip in the egg and roll in the breadcrumbs, parmesan and lemon zest.
Put the breaded sprouts on some baking paper, then bake in the oven 190oC for 8-10 minutes.
Dollop some crème fraiche or Greek yogurt to dip.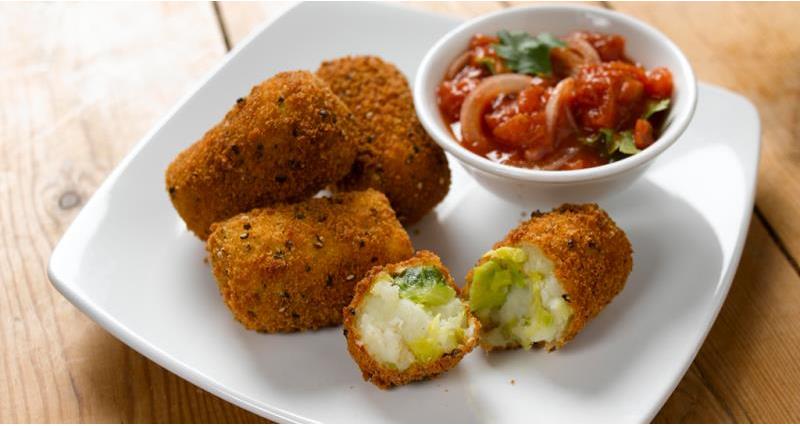 Brussels Sprout and Potato Croquettes
Serves: 4
Preparation time: 20 minutes (plus chilling time)
Cooking time: 10 minutes
Ingredients:
200g Brussels sprouts, trimmed and sliced
500g potatoes, cooked and crushed
1 egg, beaten
50g plain flour
100g finely ground breadcrumbs, seasoned
300ml vegetable oil
200g tin chopped tomatoes
Small bunch of coriander, chopped
1 tsp Worcester sauce
1 shallot finely sliced
Method
Drop the sprouts into boiling water and blanch for 2-3 minutes. Drain and refresh with cold water. Combine with the potato, mashing them together with a fork. Season well and form the mixture into 12 croquettes.
Place the egg in a bowl, the flour on a plate and the breadcrumbs on a second plate. Dip each croquette into the flour first, to coat, then the egg, and lastly the breadcrumbs. Make sure each is fully covered. Chill in the fridge for 30 minutes, or up to 24 hours.
To make the dip, combine the tomatoes, coriander, Worcester sauce and shallot, season and set aside.
Pour the oil into a large, deep frying pan, to a depth of about 4 cm, and place over a medium-high heat. Fry the croquettes until golden all over for a total of 5 minutes – you may need to do this in two batches to avoid overcrowding the pan. Drain on kitchen paper and serve immediately with the dip.